Just Launched: Benefit B. Right Skincare
Sure, you can fake glowing skin - it's kind of Benefit Cosmetics' heritage. They've brought us great quick fixers like Erase Paste, High Beam, Lemon Aid and Coralista - all things to fake a fab glow. Well, now Benefit is giving us the necessities to get a radiant complexion sans the concealer, powder and highlighter. And we think that's sorta brilliant! The brand's first-ever skincare line, B.Right, will focus on giving all skin types a brighter complexion.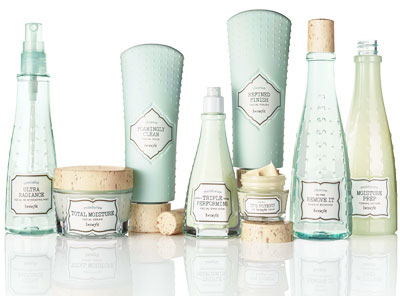 But don't worry, Benefit's not getting all clinical on us. B.Right will be sticking with the brand's witty take on beauty and delivering a radiant complexion through good hydration. The gorgeous packaging has a water theme inspired by the beach and the San Francisco coast - it's a little vintage mixed with modern.
Having the LVMH skincare labs' research helped Benefit to create their tri-radiance complex, which captures water on the skin's surface and maintains the skin's hydration. On top of the key ingredient, Benefit accessed LVMH expertise to create a truly sensorial experience using scent. The refreshing scent was tested in France, China and the US to determine what would be most universally appealing. According to my American nose, it has a nice clean scent with a hint of floral notes.
The eight new products deliver instant moisture, but are designed to also maintain hydration and to deliver long term benefits. The collection includes Triple Performing Facial Emulsion SPF 15, Total Moisture Facial Cream, Moisture Prep Toning Lotion, It's Potent! Eye Cream, Foamingly Clean Facial Wash, Refined Finish Facial Polish, Remove It Makeup Remover and the Ultra Radiance Facial Re-hydrating Mist.
Get the latest beauty news and inspiration!
Sign up for our newsletter to receive the latest from Beauty Blitz delivered straight to your inbox.