This Lipstick Is Like A Fairytale for Your Pout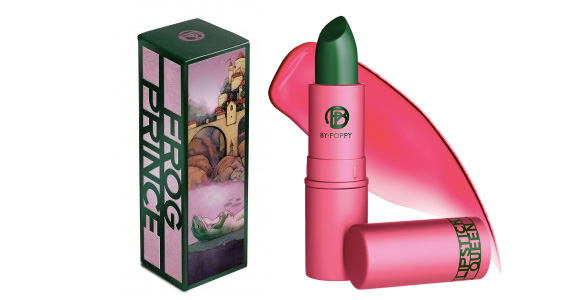 The Frog Prince is a widely popular Brothers Grimm tale where a frog magically transforms into a handsome prince. The original version never mentioned anything about the girl having to kiss the frog, but in modern versions, the magic is triggered by a smooch. Everyone loves a fairytale, but have you ever worn one on your lips? 
In a way, Lipsticks Queen's latest bullet is like a reinterpretation of the beloved fairytale on your mouth. The green — yes, green — lipstick is called Frog Prince, naturally. But don't freak out; it turns into a beautiful, soft petal pink once it hits your lips. Just like a real frog prince. Here's how the story goes…
Once upon a time, in a land far, far away, there lived a beautiful queen who longed to find the perfect rosebud pink lipstick. And try as she might to find that fairy tale perfection, her friends quickly brought her back to reality. "Too sweet!" cried Goldilocks. "Too pale!" said Snow White. "Too cupcake!" followed the Gingerbread Man. The queen despaired and all but gave up on her quest until one day she chanced upon Frog Prince. As soon as she touched it to her lips, the sheer green pigments suddenly transformed into a magical and flattering rosebud shade that seemed to have been made for her and her alone. 
But even more surprising was how different it looked on the lips of her friends. Magically adapting to their natural coloring and pH levels, Frog Prince transformed into a warm, earth-toned blush on Goldilocks' golden complexion, whereas on Snow White it became somehow brighter and more vivid against her snowy skin. Seeing that no two pairs of lips would ever look the same when wearing the enchanting lipstick, the queen realized that this idea of perfection, for which she has searched for so long, was not one single shade after all. 
The fairytale tells it all. Frog Prince is truly a "your lips, but better" lipstick. Emphasis on the "your." The semi-sheer finish leaves lips with a pretty glaze that lets your natural lip color shine through. Plus, it acts as a balm with ingredients like shea butter and vitamin E. It's the ideal hue for warm weather days, whether your hanging out on a boardwalk or having girls' night at the tiki bar. 
Get your own Frog Prince for $25 at lipstickqueen.com and Space NK.
Keywords
Get the latest beauty news and inspiration!
Sign up for our newsletter to receive the latest from Beauty Blitz delivered straight to your inbox.