Molton Brown's First Artisanal Fine Fragrance Collection
Molton Brown makes plenty of great scents in their bodycare line, but they're finally entering the fine fragrance category. Molton Brown's debut collection of artisanal fine fragrances, Navigations Through Scent, takes you on an olfactory journey to four continents with five inspiring fragrances. Each bottle is inspired by the heritage of perfume, beginning in the Ancient World - the birthplace of fragrance - and ending in the New World.
"The Navigations Through Scent Collection has been designed to appeal to niche fragrance lovers everywhere," said Molton Brown's Principle Perfumer Jennifer Jambon in a statement. "Each fragrance note has been beautifully and painstakingly crafted, using the finest, rarest ingredients. It took me a year of careful research, exploration and discovery to prepare these five unique scents, which I feel perfectly echo the essence of the spice trade, and the wonderful roles of perfume through the ages."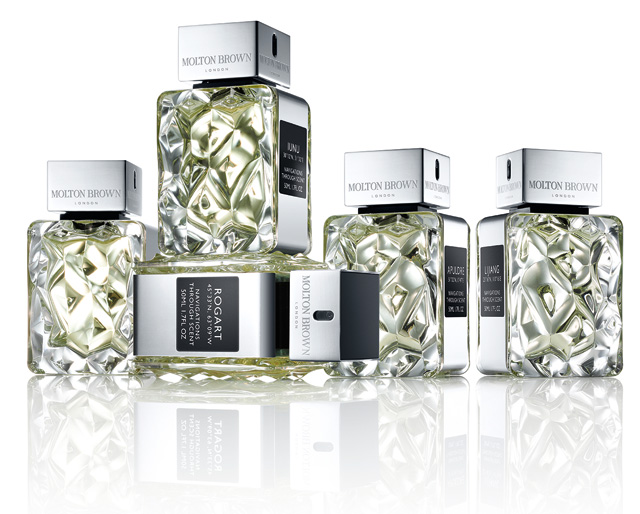 The five unisex scents in the collection are inspired by specific points of the four continents, hence the geographic coordinates. Each one is also blended with a lead ingredient from each country.
The floriental-spicy scent of Iunu (30°12'N, 31°32'E) ($120), named after the lost City of the Sun in Egypt, starts the journey with notes of Egyptian jasmine oil and black pepper. The adventure continues to China with Lijiang (25°16'N, 110°16'E) ($120), a floral musky scent with notes of osmanthus absolute (a native Chinese flower) and white musks. Next, Singosari (07°91'S, 112°65'E) ($100) brings you to Indonesia with rich patchouli leaf and ginger to create a spicy/woody combination; and later, to England with Apuldre (51°02'N, 0°47'E)($100) , a green aromatic combo of juniper berry and violet leaf absolute. Finally, your expedition ends in Canada with a blend of fir balsam and maple syrup, creating the woody fresh fragrance of Rogart (45°33'N, 63°09'W) ($110).
These rare and unique scents make for memorable first impressions and awesome holiday gifts. The fact that they are unisex makes them the perfect gift for your favorite couple, too! The collection is available exclusively at Saks Fifth Avenue.

Keywords
Get the latest beauty news and inspiration!
Sign up for our newsletter to receive the latest from Beauty Blitz delivered straight to your inbox.