I'm With the Brand: Silk Therapeutics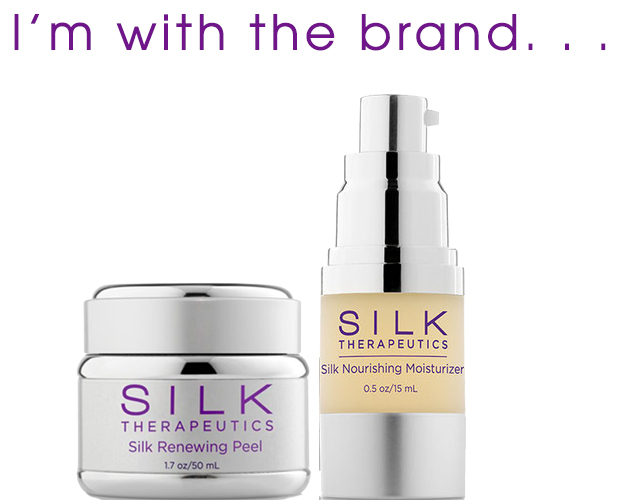 If you are what you eat, the same logic should apply to what you put on your skin. As more and more toxins are identified in beauty products, I've made a concerted effort to find non-toxic alternatives. When I came across
Silk Therapeutics
, a skincare brand based non-GMO silk proteins, I gave it a hopeful try.
It not only delivered on its promises, but it also surprised me with additional benefits.
I evaluate more than just claims when I road-test products. I look at everything from packaging (Is the jar easy to open? Are products pretty to look at? Are they durable enough to survive travel?), delivery system (Is it ease to pump product out of the bottle? Are there creative solutions to make using the product easier, faster or more hygienic than other products?), formula (What's the texture? How does it feel under makeup? Is it sticky, greasy or itchy after application? How does it smell? Does it irritate my skin?). I also consider the price and how it compares to competitors.
I wondered how Silk Therapeutics' propietary silk proteins performed. Would these products be as effective as other anti-aging products? I'm reluctant to trade efficacy for natural formulas. I mean, why use products that don't work? Silk Therapeutics' scientists, Dr. Greg Altman and Dr. Rebecca Horan, figured out a way to create pure, stable, silk protein that actually does the job. Altman and Horan have a background in biomedical science and spent more than 15 years researching and developing silk-based applications in both medical products and skincare. Their silk protein "plays nice" with other ingredients. It doesn't deactivate other ingredients or get a gross, sticky texture, as some natural tend to do. Silk is now the hero of my skincare routine and my lingerie drawer.
"Silk is no longer just for my lingerie drawer. It also wages war on fine-lines while protecting my skin."
Over the 17 years I've spent as a beauty editor, I've noticed that innovations often come from a company founder's health or beauty issue. Dr. Horan is a cancer survivor, so she sought to create a skincare collection free from any ingredients linked to cancer. It's safe for anyone who is pregnant or undergoing cancer treatments.
Here are my favorite products from the collection:
Most peels irritate my skin with aggressive, harsh chemicals. This one gently exfoliates the dead surface skin, revealing a soft, more youthful layer - minus redness, stinging or itching. 
Silk benefits: Silk protein delivers glycolic and lactic acid to promote cellular turnover and help regenerate skin without irritants.  
Ingredients: water, silk, glycolic acid, lactic acid and lemongrass essential oil
This cream is hydrating, but also delivers antioxidants and soothing vitamins to skin. The lightweight formula absorbs quickly, taking the stress out of rushed makeup application.
Silk benefits: The silk proteins lock in moisture from intensely hydrating hyaluronic acid. Vitamin E is a key ingredient to help shield skin against environmental damage.
Ingredients: water, rosehip oil, jojoba oil, sodium hyaluronate, silk, vitamin E, sodium anisate, Aspen bark extract
This article is produced in partnership with Silk Therapeutics. All of the opinions are my own. 
Keywords
Get the latest beauty news and inspiration!
Sign up for our newsletter to receive the latest from Beauty Blitz delivered straight to your inbox.