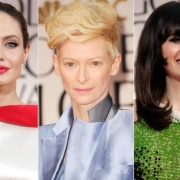 The Golden Globes are, without fail, the best red carpet for beauty stalking - and this year's awards didn't disappoint. Read on for our top favorites and fails.
read more >>
January 15, 2012 - 12:49pm
Jessica Alba has been making fashion statements since she first hit the Hollywood scene a decade ago. From leading lady to fashion star, Jessica has picked up a few beauty necessities along the way....
read more >>
What We're Loving Now