What's in a $1500 Face Cream?
I recently had a lovely breakfast at Sarabeth's with RéVive's Brand Ambassador Hylton Lea (right), who works closely with the company's founder, Dr. Gregory Bays Brown (left). From the name RéVive to Hylton's accent, I just assumed that it was a fancy European brand. I was surprised to find out that it had a very American heritage - the brand's birth place is Louisville, KY.
You could say RéVive has humble beginnings, but now Dr. Brown and crew are celebrating their 15th anniversary. Plus, this luxe line is now in 26 countries and considered one of the top skincare brands in Moscow and Hong Kong.
In case you were wondering how all these RéVive beauty elixirs can go from $65 to $1500 (yes, you read that right!), it's not because Dr. Brown sought out to make expensive beauty products, it's because he's a surgeon at heart. RéVive owes it's scientific discoveries to Dr. Brown's work with victims of extreme burns. He studied severely destroyed skin so he could understand how skin works and how it heals. Through this science Dr. Brown discovered a recumbent protein that was a part of the Nobel Prize-winning Epidermal Growth Factor (EGF), which is now used in skin graphing technonlogy. So, no, Dr. Brown didn't have the intentions to create a luxe brand, he was simply studying destroyed skin.
But all this fabulous talk of EGF not only works wonders for burn victims, it also helps with anti-aging and gives you great skin. Since the skin's cell turnover rate slows down as you age, by the time your in your 40's and 50's, your skin needs quite the boost. With this Nobel Prizing-winning technology, RéVive is able to take the protein messaging system and apply it to skincare. It took six years for Dr. Brown to perfect and launch RéVive.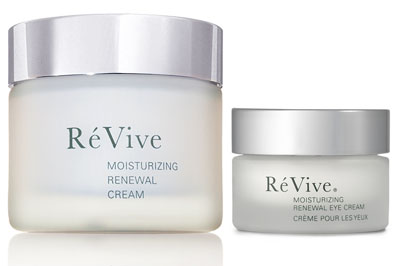 His first product was the Moisturizing Renewal Cream ($165), which combined the EGF technology with glycolic exfoliation. Together this rapidly boosts the skin's cell turnover rate and promotes a fresh, glowing, firm complexion. And to finally follow up with the success of this hero product, Dr. Brown released the Moisturizing Renewal Eye Cream ($130), which follows the same philosophy of exfoliation and EGF combo for the delicate eye area. An enzymatic blend gently exfoliates the eye area to really help fight fine lines and wrinkles without irritation or damage.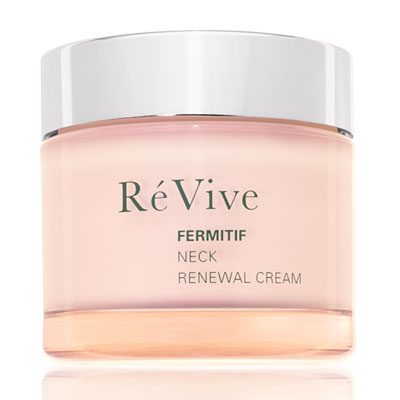 And since aging first appears in the eyes, neck and hands, Hylton was on hand to give some interesting advice - don't use moisturizer on your neck! Since these three areas of skin don't have sebaceous glands, oil and water don't really penetrate. So skip the rich creams meant for the face and use a firming product made specifically for the neck, like Fermitif Neck Renewal Cream SPF 15 ($130). The same cream would be a great anti-ager for the back of your hands, since the skin is similar. Who knew?
The Defensif Renewal Serum ($195) is another recent launch that can be incorporated into any skincare regimen. It has the EGF technology, and it's also formulated with resveratrol and superoxide dismutase - two powerful antioxidants. This serum is made to be used before your moisturizer and to pack your skin with antioxidant protection for external stressors that damage the skin and cause premature aging.
So now you know the science that goes into RéVive to give it that impressive price tag.
Keywords
Get the latest beauty news and inspiration!
Sign up for our newsletter to receive the latest from Beauty Blitz delivered straight to your inbox.