1950's Glam in Technicolor at Badgley Mischka
"The inspiration comes straight from the clothes," said Tom Pecheux for MAC. The clothes have plenty of 1950's shapes, so Tom drew from screen sirens like Marilyn Monroe and Elizabeth Taylor, but he wanted to envision them "today and in color."

All Photos: Mat Szwajkos for Beauty Blitz
Much like Badgley Mischka gowns, Tom wanted the makeup to have an element of fantasy. "We're doing a very powerful eyebrow with the wing like they used to," Tom said. "We're also doing a very thick and pointy eyeliner." The silver liner is quite exaggerated and thick with a wing that extends out to the eyebrows. There's also a pop of a lip and a drawn-on beauty mark.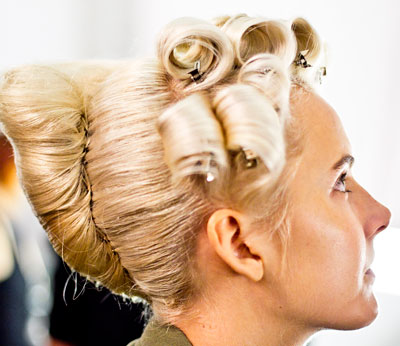 Peter Gray For Moroccanoil created the magnificent hair. "It's a nice big French pleat," he said. "It's not too stiff; its real done hair."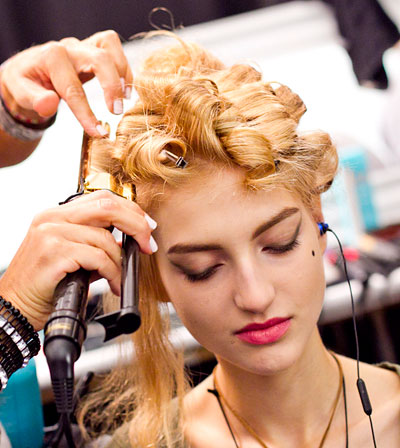 Peter took inspiration from Tom's overstated 50's look, and drew from the Liz Taylor hair in Who's Afraid of Virginia Wolff? "It's an old school salon approach," Peter said.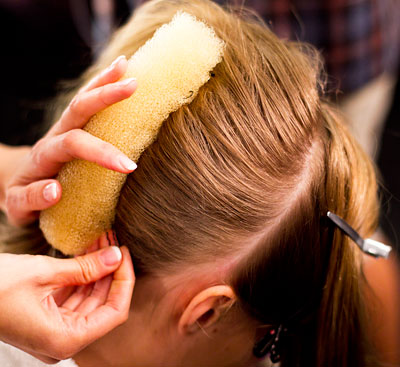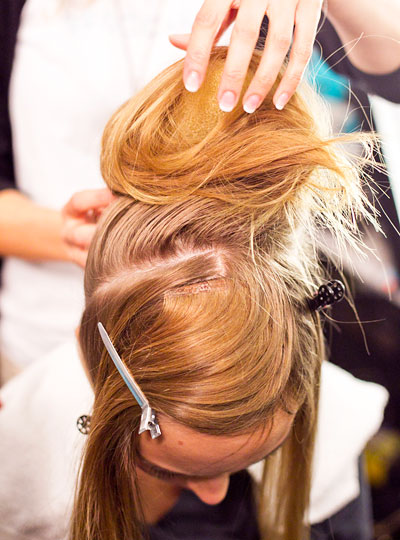 So they used a foam form in the hair to give the pleat shape and volume. The hair on top was set in curls, and right before the models hit the runway, the curls were combed out with a wide-tooth comb for the volume, height and messiness.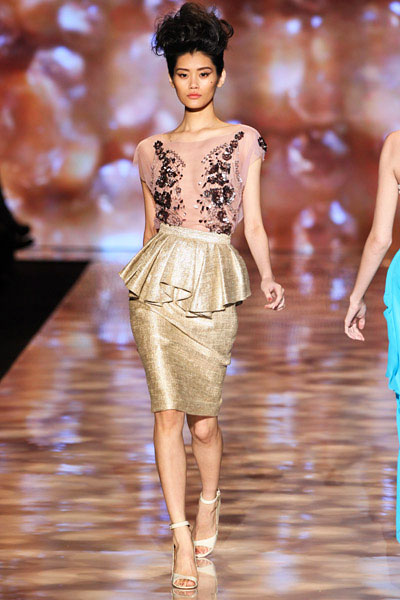 Photo: Wireimage
"So were really going for it," Peter said of the final hair look. "But it's sexy - the texture needs to be a bit bonkers. It's a little bit all over the place."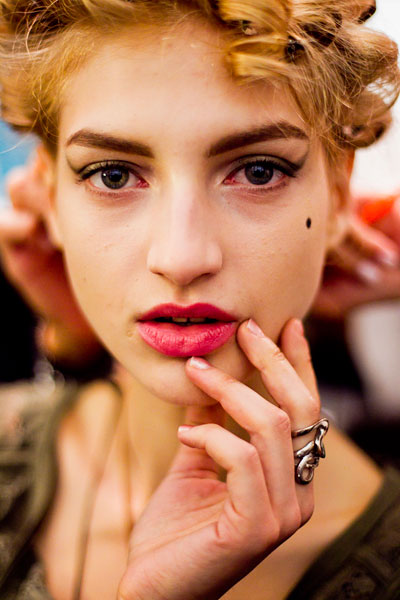 And to finish off the beauty look, the boys of Badgley Mischka went for Deborah Lippmann's rose gold hue called Glamourous life. "Her inspiration was the rose gold Rolex," said Deborah's husband Jude Severin. "It took Deborah three years to finish - getting the satin finish just right took forever." And it's that perfect finish that made the polish the perfect choice for the luxe gowns in the collection. The color will be on both finger and toes, which Jude believes will be more of a trend going into Spring 2012.
Keywords
Get the latest beauty news and inspiration!
Sign up for our newsletter to receive the latest from Beauty Blitz delivered straight to your inbox.