31 Days of Pink: October 15
For the fifteenth day of our pink nail art Odyssey, we're giving you a DIY lace manicure using essie cosmetics. Aside from raising awareness for a cause very near and dear to our hearts, we're giving something extra to you, dear readers. We're awarding the essie BCA collection to a reader who comes up with the most clever name for today's manicure.
How to enter: Tell us what you'd name today's manicure in the comments section or Tweet us at @BeautyBlitz.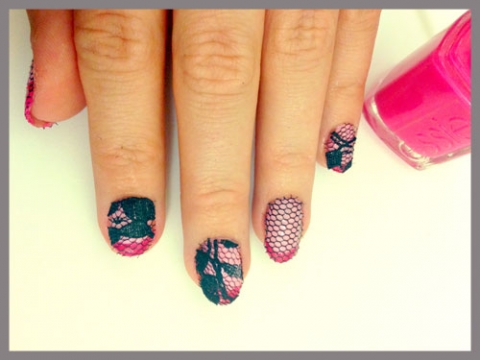 This lacey, French manicure was inspired by the lingerie! We took the traditional Frenchie and amped it up with hot pink polish, black lace and fishnets. 
What you'll need: 
- light pink polish. We used essie polish in We're In It Together from the new BCA collection. 
- darker, brighter pink polish. We used essie polish in Fiesta. 
- black fishnet stockings 
- black lace
- nail glue
- a thin, sturdy paint brush
- scissors or cuticle cutters
Step 1: Apply two coats of the light pink polish. Wait for them to dry a bit. 
Step 2: Using your thin brush, paint a French mani along the edge of each nail using your brighter pink polish.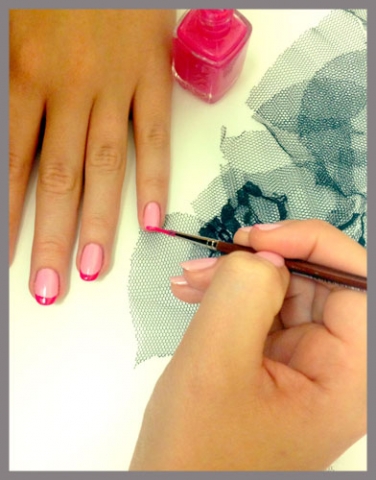 Step 3: Gently apply small pieces of lace and fishnet using a dot of nail glue. Gently pat down the fabric. We used fishnet on the ring finger and thumb, and lace on the rest of the nails.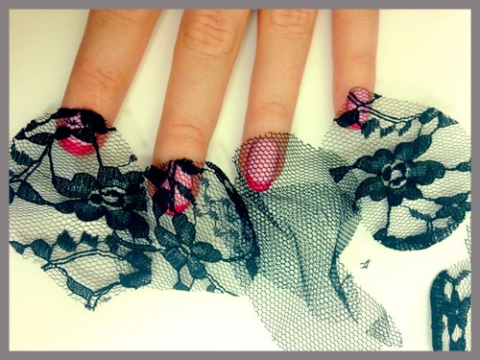 Step 4: Using a scissor or cuticle cutter, snip off the excess material around each nail.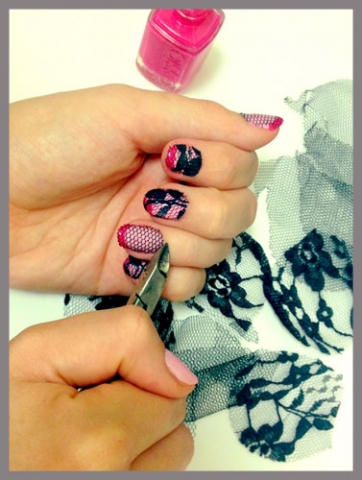 Step 5: Enjoy your sexy new mani! 
Keywords
Get the latest beauty news and inspiration!
Sign up for our newsletter to receive the latest from Beauty Blitz delivered straight to your inbox.