90s-Inspired, but Not Quite Grunge at Vena Cava - NYFW Fall 2011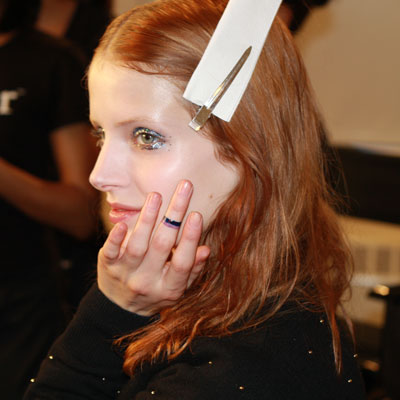 Think Fiona Apple, not Courtney Love. The beauty look at Vena Cava's fall collection cribbed references from '90s-era cool girls with an edge.
Makeup: Christian McCulloch for MAC
Gunmetal glitter on the eyes was the makeup's focal point. "It's really the only makeup on the face, so if you think about it, it's more like an accessory," said Christian McCulloch for MAC, who created the look based on the designers' love for mid-90s icons like PJ Harvey and Fiona Apple. Christian mixed different textures of silver, blue and gray glitter to get the right shade: "It's not garish blue," he explained, but more of a "slate color, which is a bit more chic and sophisticated within the realm of glitter." He also liked the "art school-y" texture of it all; in fact, he mixed actual art store glitter with makeup glitter from MAC and other brands to get the effect.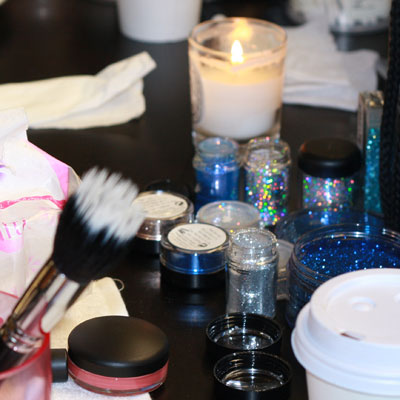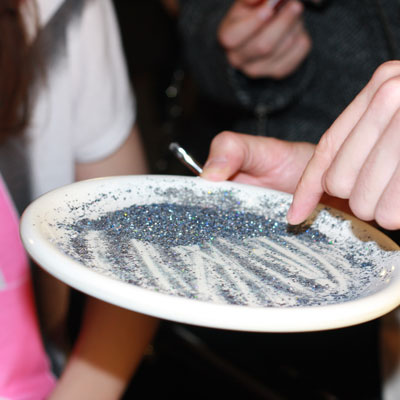 To adhere the glitter to the face, Christian used MAC Shine: "It's a bit finer than Vaseline," he said. "Just sort of stick [the glitter] on with your finger, and when you get closer to the lashes, fill in with a brush to get the patches that are missing."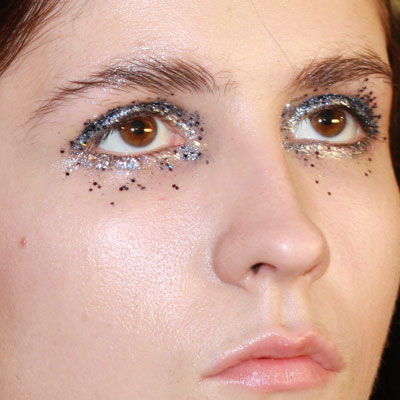 Christian also gave a tip to remove stray glitter fallout: "I love the little brushes that are like mascara wands without mascara on them, and they just flick it off for me really easily. Sometimes that works a bit better for me than cotton tips or fingers. The other trick is sticky tape - just sticky tape it off."
The rest of the makeup was minimal - on lips, MAC Lip Pencil in Subculture mixed with lip balm; on brows and cheekbones, some highlighter. "I felt like cheek color and lip color would have been trying to make it too glamorous," Christian explained. "Sophie and Lisa, the designers, were into it looking sort of naive and relaxed."
Nails: Nonie Crème for Butter London on Beauty.com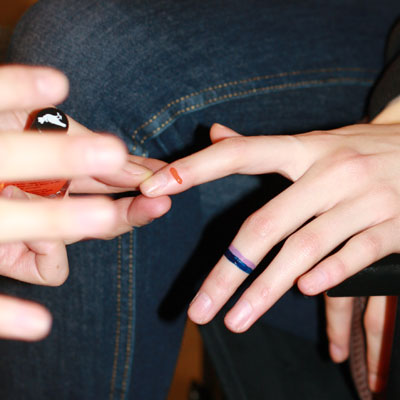 Models' nails were nude, but they still wore color - on their skin. Butter London's Founding Creative Director Nonie Crème created these cool "rings" by applying polish directly to the girls' fingers (Butter London's 3-free formulations are safe to use this way, she explained). "Why can't you move your nail art up to your skin?" Nonie said. "It gives you a way to explore color combinations. How else can you wear two colors simultaneously other than on your hands and feet?" Nonie used a set of pre-existing shades for this show (Royal Navy, Union Jack Black, Scoundrel, Tramp Stamp and a custom fluorescent orange), but for fall, she's feeling new colors: "My gut is telling me about some variety of...non traditional gem tones. Like a garnet instead of a ruby, a dirty teal instead of sapphire, tarnished gold instead of gold. Taking your traditional fall jewel tones and then just moving them one note to the left."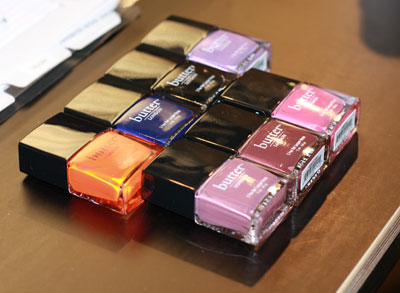 Hair: Ted Gibson for Beauty.com
The key to the "90s grunge, Christy Turlington" hair look, according to Ted Gibson for Beauty.com? Doubling up on products. The hair stylist used Ted Gibson Fix-It Gel and Tame It Shine Lotion in tandem to give hair a "effortless, super-cool, young" texture that looked almost wet: "We want the control of the gel and we want the shine and the cream texture of the shine lotion," Ted explained. "I think that all girls want some kind of texture in their hair. The idea of hair being completely straight isn't necessarily sexy."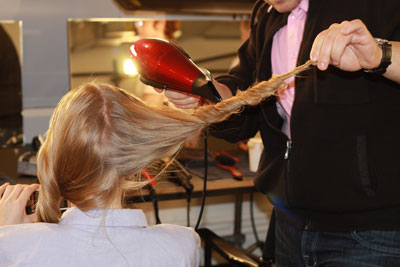 To style models' hair, Ted parted the hair in two sections down the middle, slicked the front with the two products and scrunched the ends with more product. "We're bringing back the whole thing about scrunching. It's not a pretty way" to create texture, Ted said. "It's a grungy, super cool, modern way." Finally, he pinned the hair into buns to set. "At home, you can modify it depending on how grungy you want it to be, so that depends on how much product you use."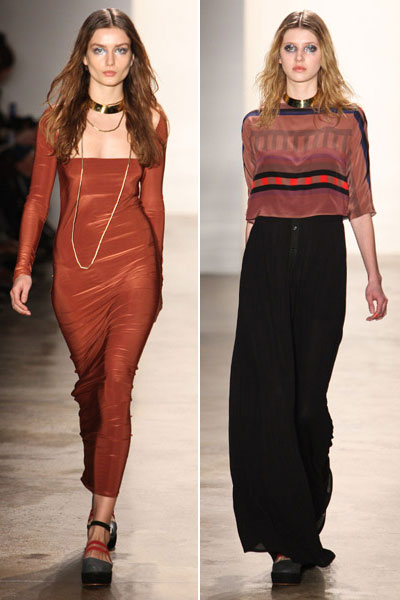 (Backstage photos: Beauty Blitz; runway photos: Wireimage)
Keywords
Get the latest beauty news and inspiration!
Sign up for our newsletter to receive the latest from Beauty Blitz delivered straight to your inbox.