American Apparel Mannequins Show Pubic Hair; Is Bush Back?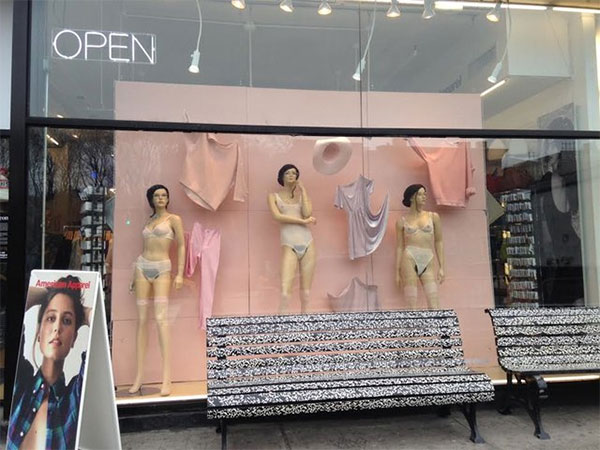 Super realistic mannequins have always kind of creeped us out, but this takes it to another level. In the windows of American Apparel's East Houston Street store in New York, mannequins have been sporting sheer panties that show off thick, dark, furry merkin wigs — to the delight and horror of Instagram-snapping passersby. Apparently the highly visible grooming statement is part of a Valentine's Day display
meant to express the "rawness and realness of sexuality."
Point taken. But besides this being just another hilariously shareable news story on the internet, we're wondering if the merkin-clad mannequins are a symptom of a larger trend.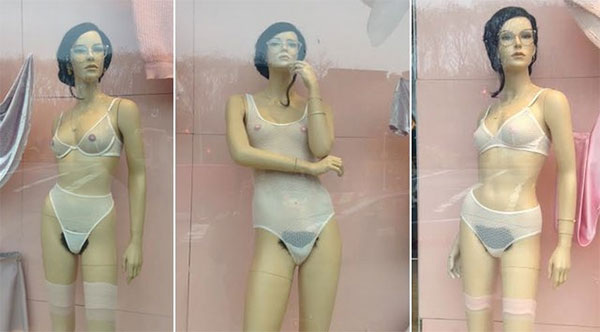 Just this month, Cameron Diaz's
The Body Book
has already become notorious for an excerpt in which she
discourages women from permanently zapping the hair down there
. "I think permanent laser hair removal sounds like a crazy idea. Forever? I know you may think you'll be wearing the same style of shoes forever and the same style of jeans forever, but you won't. The idea that vaginas are preferable in a hairless state is a pretty recent phenomenon, and all fads change, people."
Of course, different styles of pubic hair have gone in and out of favor throughout the ages. Want proof? Check out our
History of the Hair Down There
. Dov Charney is about 200 years late to the game.
Photos: via Gothamist
Keywords
Get the latest beauty news and inspiration!
Sign up for our newsletter to receive the latest from Beauty Blitz delivered straight to your inbox.