Anti-Aging Regimen for Your Hands?
We slather on anti-aging concoctions, give ourselves peels and inject fillers to perfect our complexions against any sign of maturation, but what about our hands? You know - scary veins, splotchiness and discoloration. Whether you're already there (like Madonna?!) or you just never thought about it, you can do something about it. We asked top derms to give us their take.
New Anti-Aging Territory
"Our hands, in particular, are among the hardest working and most environmentally vulnerable parts of our bodies," says dermatologist Dr. Katie Rodan of Rodan + Fields. "Yet when it comes to anti-aging skincare, they are too frequently overlooked."
As women continue to focus on achieving an ageless face without thinking about their hands, the contrast starts to become noticeable. "As other areas of the body become better, the areas that aren't improved tend to stand out more," said dermatologist Dr. Joel Schlessinger, founder of LovelySkin.com. You can often see this with celebrities who've had great plastic surgery on their faces, but left their hands untreated.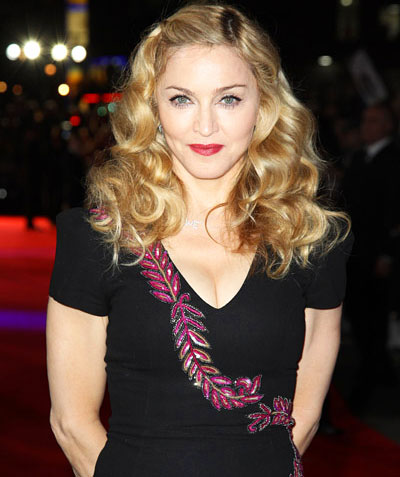 Madonna's complexion is looking good for 53, but she may be hiding her hands for a reason.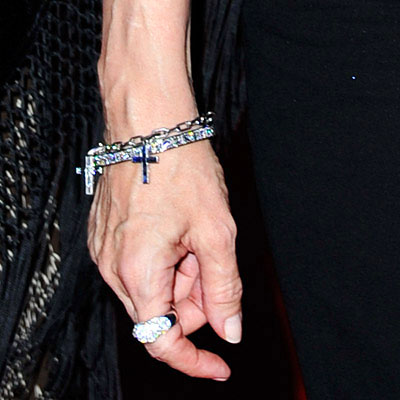 Her veiny hands probably have makeup on them and might have had work done, too, but there's no denying her age.
Face Vs. Hands
One thing the skin on our hands and face have in common? They're the first areas to show signs of aging. "Hand skin structurally is the same [as the skin on the face] except for far fewer sebaceous glands," says dermatologist Dr. Kathy Fields of Rodan + Fields.
In addition to fewer sebaceous glands, the skin on our hands is significantly thinner than the skin on our faces.  "Minor imperfections tend to stand out even more," Dr. Schlessinger said. "[Skin on the hands] is quite a bit more movable and elastic than the facial skin, but this tends to make it more likely to wrinkle as time goes on as well."
Sarah Jessica Parker's makeup artist probably has a slew of products to prep and conceal her hands, too.
Caught Black & Blue Handed
Dark Spots: Sun exposure and the lack of sun protection leads to hyperpigmentation on the backs of hands. "Generally, it is dark spots that bring patients into the office for treatment," Dr. Schlessinger says. "These are easily treated with lasers and intense pulsed light most of the time."
Loss of Collagen: "Collagen loss of the hands begins in our 30's," Dr. Fields says. Dermatologist Dr. Fredric Brandt also attributes sun damage to the break down of collagen and elastin, which in turn leads to wrinkles.

Bruising: "Bruises tend to start happening as hands pass the point of serious sun and environmental damage," Dr. Schlessinger says. The thinning of skin and loss of collagen - even in the blood vessels - make aging hands prone to bruising.
Making Hands Match the Face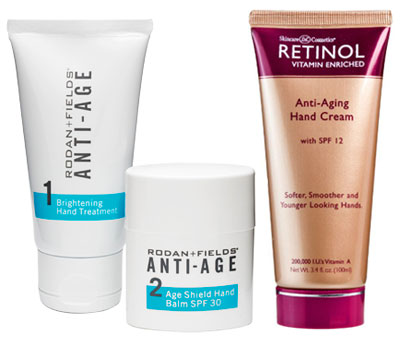 Anti-aging hand products combine SPF with other age defying ingredients.
Hydration is important, but the biggest key to anti-aging for the hands in sun protection. We recommend the Rodan + Fields Anti-Age Hand Treatment Regimen ($67), which includes a hydrating hand cream with optical brighteners and a SPF 30 balm that can be used on the hands after applying hand cream. We also like Retinol Anti-Aging Hand Cream ($12.99), because of its blend of vitamins A, C and E to improve cell turnover rate and SPF 12 for sun protection.
For hands with visible aging, Dr. Brandt recommends retinol, glycolic acid and peptide creams to boost collagen and lightening treatments to fade brown spots. He also uses fillers to add volume to the hands and says it's OK to use such anti-aging face creams on the backs of hands.
The bottom line? Sun damage is the biggest aging agent. The more diligent you are about wearing SPF now, the more you can delay the signs of aging, so you don't have to think about Juvaderm for your hands later.
Keywords
Get the latest beauty news and inspiration!
Sign up for our newsletter to receive the latest from Beauty Blitz delivered straight to your inbox.