On a Personal Note: Skin Cancer Is No Joke
Last year, my husband thought he had a stubborn pimple on his nose. It was skin cancer.
Around this time last year, my husband, Mark, found out he had basal cell carcinoma on his nose. (I don't like to use the word "diagnosed," because it sounds super scary. But it's accurate. And it is scary.) Basal cell carcinoma is derm-speak for skin cancer. Yes, the C word that you never want to hear. This type does not spread and is not lethal, like melanoma. But it is still a form of cancer. And if you've had any type of skin cancer, you're at risk of having more.
After several weeks of wondering why this pesky pimple on his nose wouldn't go away, he made an appointment with dermatologist Dr. Debra Jaliman. He came back explaining a blur of scary words like "biopsy" and "lab results" and "cancer." Mark and I are lifelong beach bums. If there's sunshine, sand and refreshing ocean waves, we're happy campers. He was a lifeguard growing up and on the swim team during high school and college. He rarely wore sunblock (as it was called back then). Not even white lifeguard goop. One Mohs surgery, skin graft from his ear and cartilage implant later, my man's nose is cancer free. He swore from that point on to apply SPF every day, regardless of the weather and season.
Finding the right SPF for Mark involved a marathon of testing. Some formulas were too greasy, some too chalky, others "smelled like a girl." He finally found one that he continues to use daily. And it comes in a beige ungirly bottle: L'Oreal  Sublime Sun Advanced Liquid Silk Sunshield SPF 50. It's lightweight, absorbs quickly, has broad spectrum UVA/UVB coverage, and a matte finish so he doesn't look shiny. Plus, it doesn't clog pores.
Here are some valuable lessons we've learned from the experience:
1. There's no such thing as sunblock. There are sunscreens, both chemical and physical. But nothing actually blocks the sun. And you must reapply often. Like after breezing through each tabloid, getting out of the ocean or rotating sides on your chaise.
2. Sun damage is cumulative. It's not like a paper cut, which has no impact after it heals. Your skin cells remember every single sunburn and unprotected jog, swim or stroll.
3. We vowed to protect our kids, Sam and Miles, from harmful rays. Our diaper bag is stocked with sunscreen. We rented a beach house this summer and plan to keep the boys out of the sun during peak hours (10 am - 4 pm) as much as possible.
4. Your moles need checkups at the dermatologist every year. For Mark, every six months. He needs to be vigilant about finding and testing suspicious spots. He's had several biopsies over the last year, and they came back benign, thankfully. But each one is a pain (literally), so apply, apply, apply. My friend's husband has a melanoma on his shoulder, and now his back looks like a shooting target from subsequent biopsies.
5. We won't banish the beach. The dermatologist said we can continue our love affair with the beach. We can hit the ocean in the morning and get in some beach time later, as long as we're protected. And sitting in the shade under an umbrella isn't so bad, either. 
6. No excuses. Remember, Mark thought he had a pimple on his nose. And nobody commented on it for weeks. Not all skin cancers look like those gnarly photos you see in magazines. Just like you have a dentist, you need to get a dermatologist in your rotation. This is a health issue, and your visit will be covered by your health plan. If you don't have a health plan, an out-of-pocket visit is cheap compared to surgery and biopsies. Better yet: Set up a free skin cancer screening through the American Academy of Dermatology's site.
7. It's a numbers game. Twenty percent of everyone will be diagnosed with skin cancer. That's one in five. That means if you go to dinner with four friends, one of you will get skin cancer, statistically. And speaking of numbers, don't bother with SPF under 30 or rely solely on makeup that claims to have SPF properties. They're not effective enough on their own. 
8. What's the 411? Mary J. Blige said it best. You should take five minutes to quickly read this skin cancer Cliff Notes from the American Academy of Dermatology. I still have a whole lot to learn, even after years of reporting on the subject. New studies and information are available all the time. Check out the Skin Cancer Foundation site once or twice a year for updates.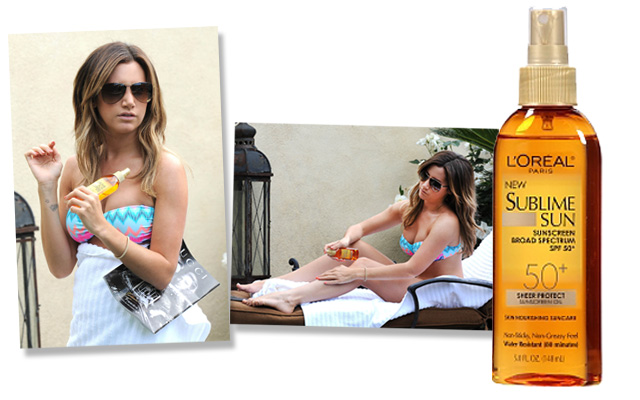 I'm always happy to see people in the public eye using sun protection. So when I came across these photos of Ashley Tisdale applying L'Oreal Sublime Sun Sheer Protect Sunscreen Oil, I was inspired to share my story with you. Kudos to L'Oreal Paris for being a front-runner in the sun-protection category. And for their recent announcement about a partnership with the Melanoma Research Alliance to donate over $750,000 to the organization. This valuable support will fund research to prevent, treat and cure melanoma, the most dangerous form of skin cancer.
Have a happy, sun-safe summer.
xx
Polly
Keywords
Get the latest beauty news and inspiration!
Sign up for our newsletter to receive the latest from Beauty Blitz delivered straight to your inbox.