Ethereal 19th Century Chic at Behnaz Sarapfour Spring 2013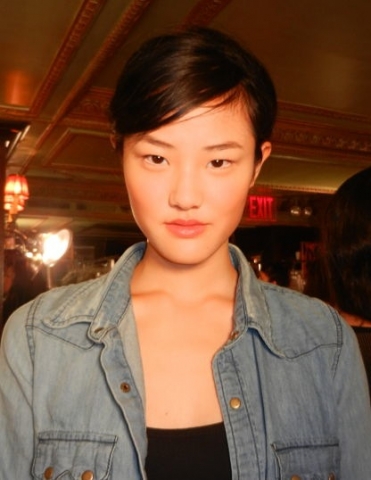 Set amidst the historied ballroom of The Jane Hotel, Behnaz Sarapfour's Spring 2013 collection looked like a moving painting. The beauty look was blend of matte textures with sparkle that accented to clothes.
"We were looking for a very sort of Renaissance kind of feeling to the girl, sort of a Sargent painting," explained makeup artist Val Garland. "I wanted the girls to look incredibly beautiful, but not like it's a makeup look. So we have soft washes around the eyes, a whitening inside the waterline, brushed up brows and the whole skin is very matte." She started of with a primer and a blend of BB creams from Korean brand
Missha
, which is available in the US on the brand's
e-commerce site
. To set the look and give it that matte, airbrushed texture, Val used a vibrating powder applicator also by Missha. She mentioned it should be hitting the US later this fall - we can't wait to get our hands on it!
Antoinette Beenders for Aveda created the low ponytail. "It's a very early nineteenth century, very rough, very textured, very voluminous and romantic look," she explained. "Behnaz was very clear on what she wanted - she wanted that very early nineteenth century settler kind of affect, so we wanted to create a textured look that's very simple, but very sexy." She used
Aveda Pure Abundance Style Prep
to build volume, and then went back with
Pure Abundance Hair Potion
 in the scalp to give it a matte, rough texture. She pulled the hair back into a low pony using her hands to keep that sexy messiness.
Finally, the fairy dust manicure was created by Shelena Robinson for CND. "We worked with Behnaz in her studio pre-fashion week," Shelena said. "And we discussed her inspiration, and it was the 1800's and it was a little art deco, very feminine and a little bit whimsical." The result was a glitter ombre that's sparkly, feminine and easy to recreate on your own.
Keywords
Get the latest beauty news and inspiration!
Sign up for our newsletter to receive the latest from Beauty Blitz delivered straight to your inbox.