Barbie Without Makeup: She's Not Perfect After All!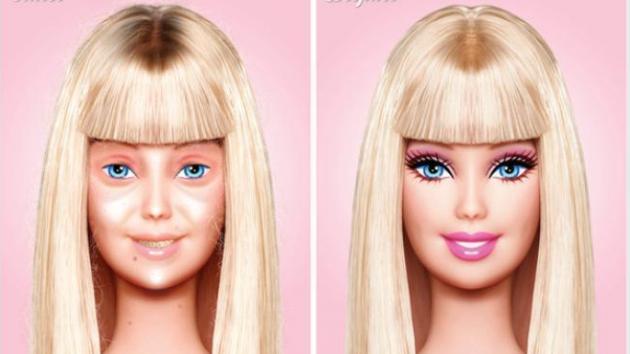 Since her release in 1959, our favorite doll has been the subject of tons of makeovers. But Barbie's latest look is more of a makeunder than a makeover. Mexican graphic designer Eddi Aguirre has gone where no one has gone before. Instead of caking on the makeup and coloring her hair, Eddi stripped Barbie of her infamous, made-up face.
This week, Eddi's images of Barbie without makeup have gone viral. A face that was once too perfect to be real is actually more relatable now than ever before. As crazy as it seems, we're actually supporting Barbie's new look. It just goes to show you that no one is perfect - something that many young girls have to realize. With all of the controversies surrounding the doll (it has been said that Barbie promotes this unrealistic ideal of what a young woman should look like), Eddi's makeunder is a blessing in disguise. It was finally time to see what Barbie looks like when she wakes up in the morning, because we all know you can't sleep with your makeup on, right?
What do you think of Eddi Aguirre's Barbie makeunder?
Keywords
Get the latest beauty news and inspiration!
Sign up for our newsletter to receive the latest from Beauty Blitz delivered straight to your inbox.