Beauty Daredevil: Grey Lipstick
In our Beauty Daredevil series, we convince an intrepid reporter to try an experiment that we're too chicken to test ourselves. For this installment, contributor Jane Kirby proves that grey lipstick doesn't have to mean "10 feet under."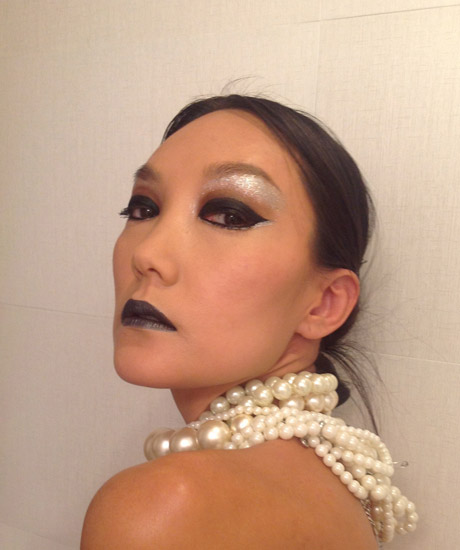 Yves St. Laurent can do no wrong. Many seasons ago, when models wore black lipstick and severe blunt bangs, the look was severe yet elegant. M.A.C. came out with a dazzling dark collection called "Grey Friday". It's a titanium-like shimmering grey lipstick and shiny sparkling dark asphalt nail polish. 
After trying to figure out how to wear this look, I found a solution in Chanel creative director of makeup, Peter Philips's work. For Spring 2013, he replicated Karl Lagerfeld's atelier's platinum finished parquet floor. Eyelids were covered in a silver metallic eyeshadow with a modern sharply defined black bat wing eye. Lips were natural with a feminine hint of pink.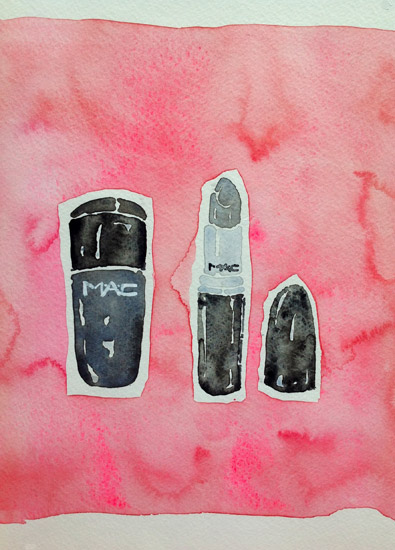 This is where I thought I'd attempt a try at the dark side. First, I applied Fresh Sugar Lip Treatment in sheer to fully moisturize lips to prevent a dry corpse look. Next, I used Make Up Forever Pro Finish Multi-Use Powder Foundation all over the lips; this helps prevent lipstick from feathering. For a liner, I used Mally Ultimate Performance Waterproof Eyeliner in Shimmering Taupe, a taupe, slate grey. Finally, I applied M.A.C. Lipstick in Frost Grey Friday. 
For eyes, I used Nars Soft Touch Eyeshadow Pencil in Silver Factory. Then, I patted on Forever 21's Love & Beauty Glitter Liquid Liner in Silver followed by Urban Decay 24/7 Waterproof Liquid Eyeliner in Perversion.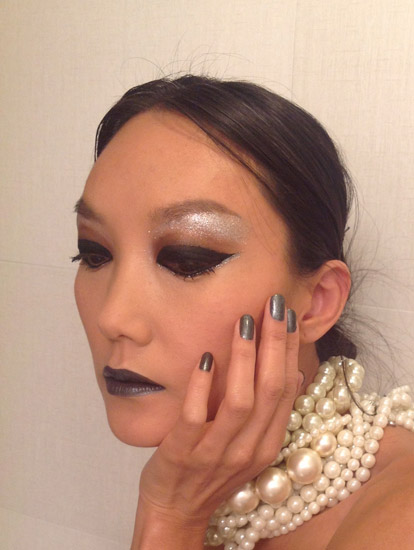 Lastly, a delightful surprise was that M.A.C.'s Grey Friday nail polish is generously thick and opaque, yet easy to apply. Therefore, I only had to use two coats to achieve the intense, dark sparkly look.
Keywords
Get the latest beauty news and inspiration!
Sign up for our newsletter to receive the latest from Beauty Blitz delivered straight to your inbox.