Beauty Daredevil: Snakeskin Magnetic Nail Polish
In our Beauty Daredevil series, we convince an intrepid reporter to try an experiment that we're too chicken to test ourselves. For this installment, contributor Jane Kirby tests out Essie's latest reptile-print collection.
When I heard about magnetic nail polish, I was intrigued. Having a lizard like pattern on your nails sounded complicated and didn't seem feasible. But it is! The Essie Repstyle (as in 'reptile') collection is a painless way to accessorize your nails without having to maneuver decals, rhinestones, messy glitter or other embellishments.
The Essie magnetic nail polish contains iron powder, which forms a dark shadowy reptile print when the magnetic top is held directly over it (while wet). The result is a 3D, textured look that is dramatic yet subtle enough for day and night.
First, you apply one coat, wait for it to dry and then apply the second coat. Immediately after applying the second coat, hold the magnetic top of the cap over the nail very still and as close as possible without touching it. I waited for a minute. You'll see the almost holographic, snake-like pattern appear instantly. If you polish all your nails and then try to hold the magnet over them later, as I did the first time, you can always apply a fresh coat, one at a time and try the procedure again.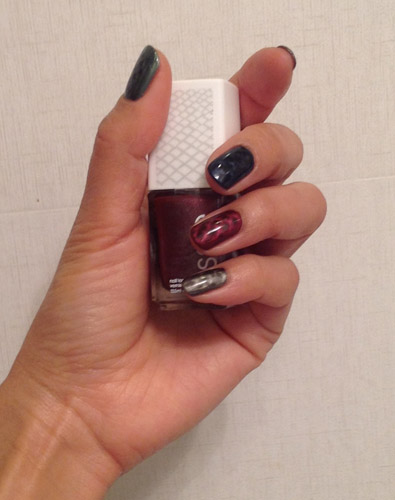 I tried all the colors in the Repstyle line. The most successful color was Repstyle, described on the Essie site as "a hypnotic desert brown." It looked like a strong, metallic gold with blush pink undertones on my nails. Because it's a lighter shade, it took on the magnetic attraction the best, resulting in a python-like print.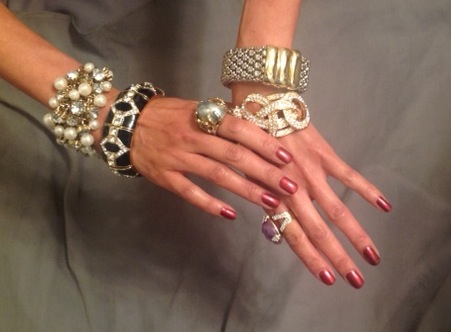 An additional benefit to this collection is the very metallic, opaque finish of the polish. They can easily be worn without the print and still look fabulous. I haven't seen other lacquers look like professional car paint before. It's a fast, easy, mess-free way to add some dazzle to your nail look arsenal.
Keywords
Get the latest beauty news and inspiration!
Sign up for our newsletter to receive the latest from Beauty Blitz delivered straight to your inbox.