Beauty Extremist: The 18-Step Routine for Luminous Skin
In our Beauty Extremist series, we interview people with a bona fide beauty addiction to find out what makes them tick and how they got hooked. Our friend and fellow beauty editor,
Teen Vogue
's Phillip Picardi, has the most amazing, glowing skin. We
had
to find out his secret. Here, he takes us through his epic, expertly curated complexion routine.
Tell us about your daily skin luminizing routine from start to finish.
After that, I soak a
Clé de Peau Beauté Cotton
pad (insane, I know) in either
Beautycounter Rose Water
or
Caudalie Toning Lotion
and apply to my whole face. Then I'll follow with Clinique's new
Even Better Essence
, which brightens the skin lightly and also helps with sebum control. Next up is serum—my favorite is
Joanna Vargas Daily Serum
, but lately I've been using this new
Caudalie CE15
product that's really nice. Brightening is big for me—I see a huge difference in my skin, you know? I think it's the perfect sort of focus for someone in their early-to-mid-20s because it's a little bit drying but also lifts spots and stuff. Anyways, after serum is an oil-free gel moisturizer. Amorepacific, NARS, or Koh Gen Do are all good by me. Next is eye cream… I pat in this gorgeous new
Beautycounter Brightening eye cream
around my eyes and underneath the brow bone. Then,
Supergoop SPF 30
. All products go on the face and down the neck.
"'What is on your eyelids?' is a question I've been asked on more than a few dates."
Okay, so after my face is prepped, I'll start my makeup. First thing's first is
Dior's Light Maximizer Primer
—that goes anywhere I want to pronounce. It also cancels dark circles. I use my fingertips with that because it can be quite creamy, you know? Hard for a brush to spread around. Under the circles, tops of the cheekbones, center of the forehead, and corners of the nose… It's light-boosting, like the label says, but it also has a silicone in it, I think because it seems to quell oils. I grab a fluffy eyeshadow brush—one from NARS—and
Surratt's concealer
. I stipple the brush onto the skin and then feather it into imperfections and the dark circles. Then I rub my hands together and press it into the skin so it kind of melts and joins my complexion. It's the best concealer I've ever used—stays put and DOESN'T CREASE. Huge for me. 
Uzo, who's this great NARS artist, once told me to luminize
before
your foundation. So I'll either use the
Copacabana Multiple
, which has a nice opal shimmer, or
Kevyn Aucoin Creamy Glow in Candlelight
, and apply it with a MAC duo fibre brush onto the high planes of my face. Sometimes I'll start about two fingers' width away from the corners of the nose and work upwards into a upside-down C-shape. Then, I stipple into the center of the chin, draw a thin line down the bridge of my nose, put a tiny bit in the center of my forehead and fan it out with a clean, fluffy eye brush, and then onto my temples. I focus a bit more at the tops of the corners of my brows, too. I love that.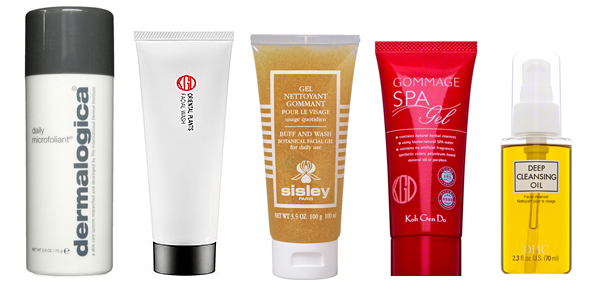 So the deal is, I never apply straight foundation to my face. I have a couple of reasons for this. One, I don't think foundation properly mimics skin texture, no matter how great the formula is. (And I use some expensive foundations, as you can see from my list above.) Two, I have a beard. I call it my natural contour. I think my beard is a sort of crutch for me. I don't know, though. It balances my brows in an important way, but I've been contemplating removing it. We'll see.
So I do a squeeze of foundation, then I put a bit of moisturizer. Kenzo has this cream called
Crème Que Fait Brille
, which just has a fine-particle shimmer to it. That's a nice one. Also,
MAC Strobe Cream
is a really lovely product to mix in with foundations because it's so lightweight and the sheen is just genius. THEN, I use one pump of liquid luminizer. It depends on my mood, which one I use… If I want a sort of bronze glow,
Tom Ford Skin Illuminator in Gold Luster
or
Kevyn Aucoin Liquid Candlelight
are absolutely amazing. They just bring a golden tone right to the foundation which is excellent for my olive skin. But if I want to be sort of opal-dewy-and-pale, then I like the
Armani Fluid Sheers
. There's a clear one and a yellow one I love. The Fluid Sheer just bestows a translucent quality to your foundation, so you spread it easily across the face and don't have to worry about caking.
"The thing about luminosity is it can't come from everywhere. You need to be smart about where you put it."
I stipple that onto the face, and then pat over it with a
Beautyblender
that's been squeezed in damp water and spritzed with rosewater. Then I'll use
Kevyn Aucoin Blush Brush
and
Kevyn Aucoin Candlelight Powder
and dust it onto the temples, the tops of the cheekbones, down the bridge of the nose, and onto the chin. After, I grab
RMS Living Luminizer
—which is no holds barred the Queen of Illuminators. This has a coconut oil base so it gives a dewy sheen that's unlike any other. But because it can be shiny, you have to be careful where you place it. I only put it on the tops of my cheekbones and my temples, tapping with my ring finger. Don't use a brush—it will pick up too much product and waste it. I then bring that to the inner corners of my eyes, smudging it halfway across the bottom lash line.
Finally, I've been using a new gold
Chanel lip gloss
on the eyelids. Gives a dewy little glow to your eyes and it makes them sort of heavy so I have this languorous blink that I think is kind of sultry, but it could be just hilariously awkward. That product is one thing boys always notice. "What is on your eyelids?" is a question I've been asked on more than a few dates with more than a few gentlemen. I think they notice in the good way. 
When did you try your first luminizer? How many have you tried over the years? Which one is your favorite and why?
I first found luminizer when I started interning at
Teen Vogue
, but I really didn't know how to apply it and found it generally confusing. I've probably tried up to 30, because I literally take home every single one that comes into the office.
RMS Living Luminizer
is my favorite because a) it's ethically sourced and made b) it lasts actually forever c) it has a dewy finish, unlike a lot of powders which can look weirdly 80s and shiny d) it's a super fine-milled shimmer, which doesn't make me look like a bad Pageant Queen and e) it is the perfect opalescent sheen that doesn't border on too-white-and-artificial.
"If the shimmer looks like a constellation when you spread it across the face, it's wrong. It should be barely detectable—a sheen!"
As a connoisseur, which features make a good luminizer stand out from a bad one?
You need to look for a very fine shimmer. In my experience, if the shimmer isn't evenly spread when you use your brush or spread it across the fingers, it's not going to look like real skin. If the shimmer looks like a constellation when you spread it across the face or the area you're testing, it's wrong. Shimmer shouldn't be scattered. It should be barely detectable—a sheen!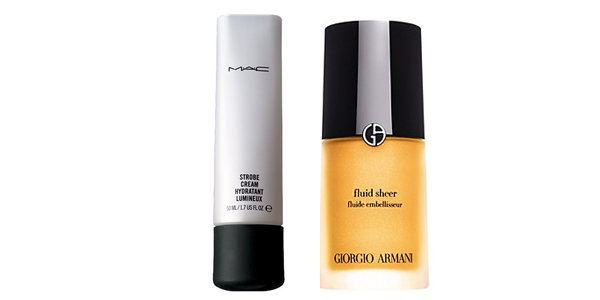 I like to mix serums with my foundation, but don't like to apply them all over the face. The thing about luminosity is it can't come from everywhere. You need to be smart about where you put it. Also, I don't like using anything that competes with my skin care routine, so some of these CC serums and "light" serums… I'm not putting those on clean skin! No way! If it has shimmer, it's going to clog the pores. And also, no makeup is going on my face unless my skin is THOROUGHLY protected. 
Creams are easy to use because they blend better and you can use your fingers, but powders are lovely to layer underneath them lightly if you know how to use a good brush. 
Do you choose different products, depending on weather, your complexion, time constraints and where you're going? 
Basically my routine stays the same — I even use creams in the hot weather because they melt and they can get so beautiful looking when they run a little bit. It looks more natural when it's worn in. If I'm having my photo taken, though, I will probably JUST use the cream under my foundation and not over it, and stick to Candlelight powder over. 
As for time constraints, if I'm in a rush, I mix 
Dior's Light Maximizing Primer
 with 
YSL Top Secrets BB Cream
, apply it all over, and then dab Living Luminizer on tops of the cheekbones and the inner corners of the eyes. I call that my Sunday Skin. Reminds me of just-after-yoga-class kind of glow. 
What do other people who know you think of your routine?
Everyone pretty much thinks I'm nuts and they're probably right.
Keywords
Get the latest beauty news and inspiration!
Sign up for our newsletter to receive the latest from Beauty Blitz delivered straight to your inbox.