Beauty Extremist: Having Red Hair is Like Being in a Secret Club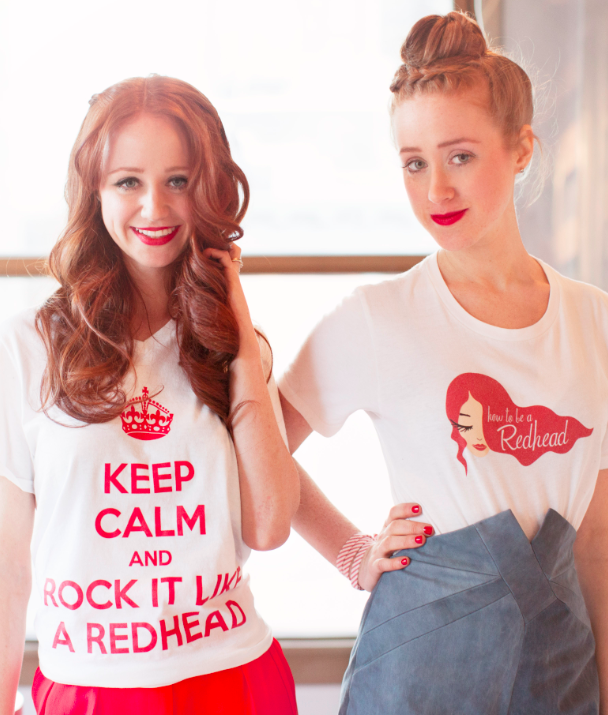 In our Beauty Extremist series, we interview people with a bona fide beauty addiction to find out what makes them tick and how they got hooked. For this installment, we check in with sisters Adrienne & Stephanie Vendetti, co-founders of How to be a Redhead, who love their hair color so much that they started a website about it.
"We are both natural redheads. Adrienne has always embraced her red hair and loved it. Stephanie, on the other hand, dyed her hair blonde (actually, bleach blonde) from about 6th-12th grade. One day, she thought, 'Why am I doing this to myself?' She went back to her natural roots & never looked back. Hairdressers are always telling [redheads] that people would pay a lot of money to get our color.
"When Adrienne was in 10th grade, she had her best friend put a streak of black down the right side of her head. Back in the day, Avril was super cool and she was trying to channel her inner rocker. It lasted for six months and she never did it again. 
"When you see another redhead, you nod at each other."
"We both went to the University of Miami, and that was probably when we spent the most time caring for our hair because we didn't want the sun to fade it. We used color depositing shampoos 1-2 times a week and always wore hats or fashionable scarves at the beach. Redheads are definitely experts on sunscreen.  
"Now that we are living in New York City, our hair routine has simmered down a bit. We only purchase products that are sulfate-free, with all natural ingredients. We love
Deep Steep
's shampoo line. 
"Adrienne frequently gets blow outs at a salon because her hair is so thick, and very hard to control. [We] joke that Adrienne's natural, out-of-the-shower hair is like Grace Coddington. 
"Stephanie's routine is shampoo and a great blow dry using a little hair oil, and a great quality round brush. Stephanie will get a clear hair glaze 1-2 times a year, but will only trust Kiera Doyle, a fabulous editorial hairstylist in NYC, to do it. 
"Redheads are always called 'red.' For some odd reason, strangers love to call it out on the street! Someone is always calling you 'ginger.' People are always comparing a woman's red hair to Ariel. Always.
"We are the co-founders of the only lifestyle redhead website/brand in the world, which proves we are pretty passionate about being redheads. How to be a Redhead's motto is: It's more than a hair color, it's a lifestyle. It truly IS a lifestyle. All redheads have the personality to match their fiery locks. When you see another redhead, you nod at each other. It's like a secret club."
Keywords
Get the latest beauty news and inspiration!
Sign up for our newsletter to receive the latest from Beauty Blitz delivered straight to your inbox.