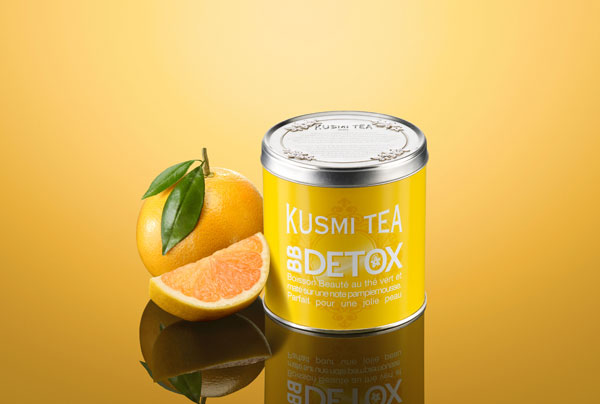 We spend our time and money on beauty products with magical skin ingredients to look and feel younger. There's nothing wrong with that. But, we hate to break it to you, if you're not trying to improve from the inside, those magical skincare products won't work as well. Sure, you'll see improvements, but if you're ingesting crap all day long, it's going to show on the outside. Which brings us to the latest in the BB trend. No, it's not a cream - it's tea! And it will give you a radiant complexion from the inside-out.
Much like BB Cream, Kusmi Tea's BB Detox (the first-ever BB tea) is made with tons of ingredients with skin benefits. It's a combination of mate and green tea that boost toxin removal and help your body get rid of excess fluid. In addition to the detoxifying mate and green teas, BB Detox is blended with dandelion, high in vitamins C and A, and rooibos, a sweet, South African plant that's rich in alpha hydroxy acids.
Sold yet? That's not all.
BB Detox is made with a hint of grapefruit for the most delicious way to hydrate. If you're not a fan of drinking 32 ounces of water a day, try this fruity blend hot or iced at any time of the day. It's officially our go-to summer refresher.
BB Detox is available at Kusmi Tea boutiques around the world and online at KusmiTea.com.
 
Get the latest beauty news and inspiration!
Sign up for our newsletter to receive the latest from Beauty Blitz delivered straight to your inbox.