Buy Now: Benefit Puff Off! Instant Eye Gel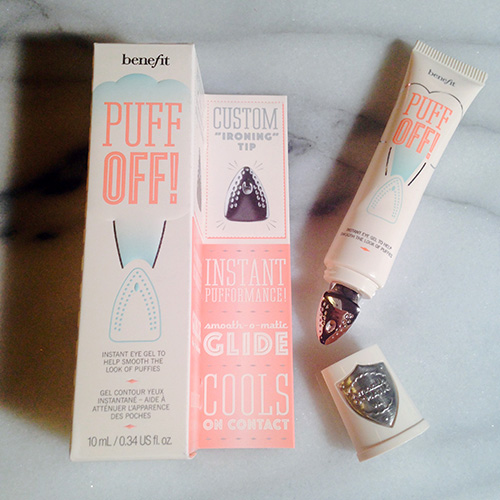 If the holidays have run you down and your eyes are paying the price for it now, Benefit's new Puff Off! under eye gel has arrived just in the nick of time. While most of my holiday break consisted of watching a generous amount of TV (ahem, Harry Potter) and sleeping, my eyes still feel super heavy today. So naturally, I put this baby to the test the second it arrived at my desk this afternoon. 
Packed with peptides and light-diffusing particles, this lightweight gel reduces puffiness and blurs away lines instantly. You can actually put it on over your makeup throughout the day to refresh the area around your eyes without messing anything up. I applied it right over my foundation without any consequences. My eyes felt an instant jolt of energy the second it hit my skin.  
The custom "ironing" tip (it looks exactly like a clothing iron, right?) is the best part. It cools on contact, helping the gel smooth out puffiness and lines to another level. Puff Off is like a cup of espresso for your eyes. Keep it nearby and never look tired again. 
Get the latest beauty news and inspiration!
Sign up for our newsletter to receive the latest from Beauty Blitz delivered straight to your inbox.