Why Bar Soaps Are Getting a Second Wind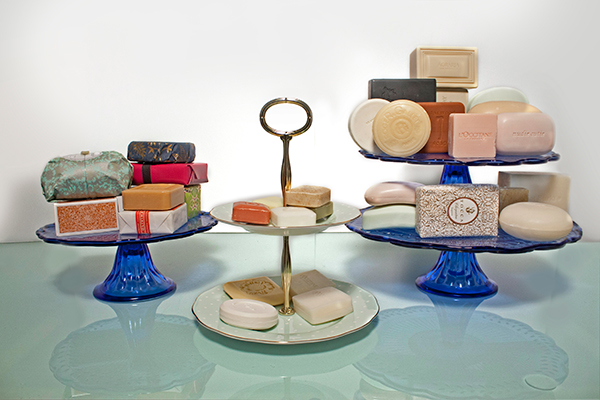 Have you ever gone bar hopping in the morning? Don't judge, but over the past few weeks, I've been hitting bars as early as 7 a.m. If you think I need treatment, I wholeheartedly agree. Umbrian clay and shea butter are quite therapeutic. To clear up any misunderstanding, these bars are soaps, not watering holes. 
Several years ago, when the world began hating on frothy cakes, I transitioned to body wash and pumpable hand soap. They seemed more sanitary, especially once brands starting adding antibacterial
triclosan
to formulas. Triclosan showed up in deodorant, mouth wash, toothpaste, even makeup. My daily rituals felt more efficient.
The appeal of this chemical — it was first used as a hospital scrub in the 1970s — faded fast when the Canadian government ruled triclosan toxic to the environment, especially aquatic life that's essential to photosynthesis. Several studies have shown that triclosan can alter how our thyroids work (including hormones that affect cancer growth) and cause food and environmental allergies. The U.S. Food and Drug Administration has stated that there are "valid concerns" about the adverse health effects triclosan poses to humans, but it still allows triclosan in personal care products.
On May 16, 2014, Minnesota banned the use of triclosan in most consumer hygiene products sold in the state. However, the ban will not take effect until January 2017.  While the ingredient is still readily available, consider returning to traditional bar soaps. Added bonus: Scientists recently proved that old-fashioned soap and water works just as effectively as antibacterial soaps.
I selected several cakes of soap that raise the bar. And they're so beautiful, they deserve a cake-plate display.  
Salvatore Ferragamo Tuscan Soul Bath Soap (from hotel bathroom)
Get the latest beauty news and inspiration!
Sign up for our newsletter to receive the latest from Beauty Blitz delivered straight to your inbox.