The Best Face Mask for Your Skin Type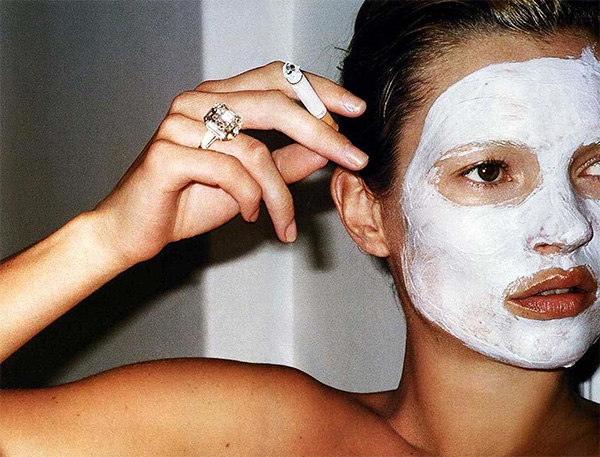 Kate Moss photographed by Mario Testino
Like "bikini body" workouts and applying for a passport, a skincare regimen tends to be a six-to-eight-weeks sort of affair, with not much in the way of immediate gratification. But there's one exception: masks, which can give your complexion an instant (if temporary) boost.
There's something cathartic about making yourself look so monstrous that you startle pets and significant others, only to wash it all away a few minutes later and emerge glowing. It's like your very own movie makeover montage. At the same time, the image of a lady in a towel turban, robe and green clay mask is like a universal symbol for hardcore don't-care relaxin'. Not sure about you, but that's how I like to live my nights and weekends.
These days, there's an abundance of different masks at beauty counters and on store shelves, which means it's time to branch out beyond the
Queen Helene Mint Julep
stuff you used in high school. Here's how to choose the best face mask for your complexion's special snowflake issues.
If your pores are clogged worse than a sorority house's shower drain, you need...a purifying mask.
The original "mud" masks, containing bentonite clay, vacuum oil from pores to help balance your complexion and make skin appear smoother. Dry skin types will want to avoid these masks. (Ever seen what clay soil looks like when it's all dry and cracked?) 
Try:
Perricone MD Chloro Plasma
($75) is a more refined version of the classic clay mask, and it's souped up with antioxidants and anti-inflammatory ingredients. Thanks to microspheres packed with chlorophyll-rich phytonutrients, rubbing the mask on your face turns it from a pale mint to a vibrant leafy green. (Pretend you're the Incredible Hulk, or a human kale smoothie.)
If you can identify constellations in your dark spots, you need...a brightening mask.
"Brightening" is one of those ambiguous-sounding beauty industry words, so just think of the effect as the opposite of tanning — not so much making skin paler, but undoing the speckly damage of all those hours you baked on the beach.
If your sensitive skin burns at the thought of harsh products, you need...a restoring mask.
Calm down, complexion: This type of mask soothes irritated skin with anti-inflammatory ingredients and nourishing moisture, like a spa day for your face.
Try:
Aloe is the first ingredient in the
Right Off the Vine Replenishing & Restoring Mask
 ($16) from 29 by Lydia Mondavi (a new skincare line sold at Target), so you know the formula will be gentle. The creamy mask also has organic shea butter, antioxidant resveratrol from grapeseed and a protein complex to boost skin's elasticity and resiliency (who are you calling sensitive?).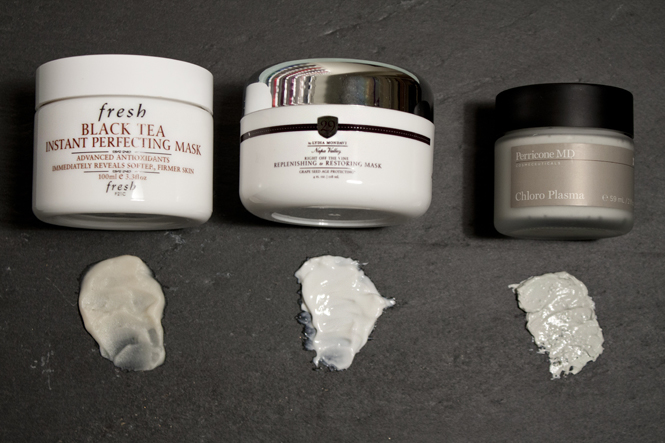 If your skin is dryer than a day-old baguette or you're worried about wrinkles, you need...a hydrating mask.
A jolt of moisture is just the thing to plump up fine lines and make your skin feel fresh and new. This is your one-way ticket to baby's butt softness.
Try:
Fresh's Black Tea Instant Perfecting Mask
($88) has a unique, velvety texture  Black tea ferment (the same stuff that makes kombucha so healthy) fights free radicals that cause wrinkles while leaving skin soft and supple. 
If you don't have time for this "relaxing" business, you need...a sleep mask.
The best part about these no-rinse masks is slathering them on and going straight to bed. Unlike a typical night cream, these products create a moisture barrier on the skin to seal in all the luscious, hydrating ingredients.
Try:
La Prairie Skin Caviar Luxe Sleep Mask
($300) will make you feel fancier than silk sheets and let you wake up flawless, thanks to skin-firming caviar extracts and gentle enzyme exfoliation technology. Yes, it's expensive, but so are you. 
If you need to pretend you got eight-and-a-half hours of sweet, sweet beauty sleep, you need...a firming mask.
Masks aren't just for pampering your face on lazy Sunday nights. They can also be used to fix bad skin day issues — like the dragged down complexion you woke up with after a two-bottle red wine dinner.
Try:
Sisley Paris Express Flower Gel
 ($136) is a three-minute, no-rinse treatment that revives stressed, tired and slackened skin with its blend of lily, iris and sesame extracts. Use it before makeup when you need a quick pick-me-up.
Product photos by: Taylor Cox
Keywords
Get the latest beauty news and inspiration!
Sign up for our newsletter to receive the latest from Beauty Blitz delivered straight to your inbox.