The Big Mascara Debate with James Kaliardos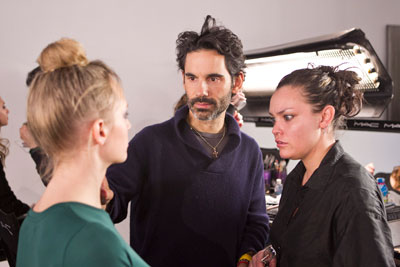 (photo by Mat Szwajkos for Beauty Blitz)
Backstage at Erin Fetherston, James Kaliardos for MAC seemed very excited to be using lots of "beautiful, thick mascara." Here's why:
"It's so fun to use mascara and not be afraid. Usually you do these minimal looks and everyone is like, 'Oh, I don't know if we should use mascara,' and its like this big debate with the designer. So you sit the room for 20 minutes talking about mascara, and you're like 'Jesus Christ everyone uses mascara, why is it such a big deal?' Then, they're like, 'okay, but just use a little bit,' and you're like, 'okay.' Meanwhile every woman in the room has mascara on …"
So there you have it, James Kaliardos loves mascara!
Keywords
Get the latest beauty news and inspiration!
Sign up for our newsletter to receive the latest from Beauty Blitz delivered straight to your inbox.