Bobbi Brown Celebrates Their 20th Anniversary with the 1991 Lip Palette
Bobbi Brown revolutionized the beauty industry in 1991, with the debut of Bobbi Brown Essentials. It started as a collection of 10 lipsticks Bobbi created to fulfill what she felt at the time was an unmet need in the market: wearable lip colors that flattered a wide variety of skin tones. She sold over 100 tubes of lipstick on the first day they debuted at Bergdorf Goodman, and the company was quickly acquired by cosmetics giant Estée Lauder in 1995. Despite enormous growth, the brand remains faithful to their original mission of creating makeup to suit women of all colors.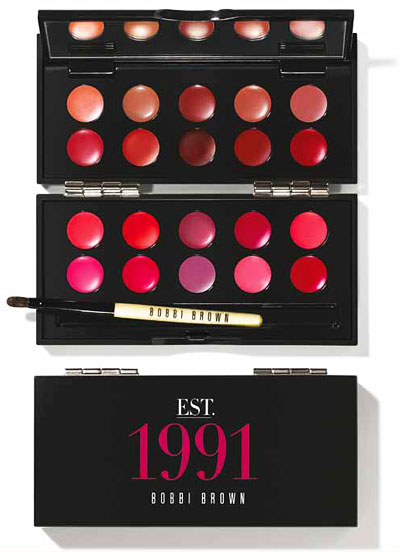 This limited edition 20th Anniversary Lip Palette ($60) includes the 10 original shades Bobbi launched in 1991, plus 10 new, brighter shades. The brighter shades may be trickier to wear, especially for those with lighter complexions, but they can all be mixed down and blended with any of the 10 original shades.
The 10 originals include:
Salmon, a pale peach, Beige, a light warm beige, Raisin, a rich plum brown, Brown, a medium pink brown, Rose, a medium rose, Pink, a bright pink, Orange, a pumpkin orange, Blackberry, a chocolate berry, Burnt Red, a brick red, and Red, a fire-engine red.
The 10 exclusives include:
Coral Gables, a bright pink nectar, Lady Ruba, an orange red, Berry Punch, a pink raspberry, Hot Berry, a pink berry, Watermelon, a bright red pink, Atomic Pink, a pink fuschia, Party Pink, a pink cranberry, Cosmic Lily, a pink lilac, Pink Martini, a baby pink, and Candied Red, an apple red.
-Diana, Intern
Keywords
Get the latest beauty news and inspiration!
Sign up for our newsletter to receive the latest from Beauty Blitz delivered straight to your inbox.