The UK's Top Selling Serums Got a Major Face Lift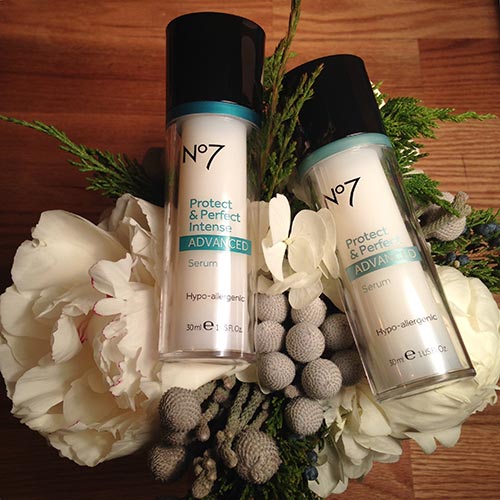 UK brand Boots has been killing it in the drugstore anti-aging game across the pond for years. The brand's all-stars, No7 Protect & Perfect Serum (for early signs of aging) and Protect & Perfect Intense Serum (for advanced signs of aging), are clinically proven to reduce the appearance of lines and wrinkles – which is why they're favorites among the Brits. Now, right when we thought the formulas couldn't get any better, Boots has given these beloved serums a serious face lift. The Advanced versions of both Protect & Perfect and Protect & Perfect Intense feature even more powerful antioxidants and peptides to reveal the best anti-aging benefits yet. In fact, they are so good, one is sold every eight seconds in the UK. 
To ensure the new formulas were the real deal, the folks at Boots conducted crazy extensive and comprehensive testing, not against a placebo, but against the original. This involved over 2,000 volunteers and 22 separate consumer and clinical studies. At the end, they found that the Advanced formulas were definitely a step up from the originals – 80 percent of women who tested the new serums saw major anti-aging results. Not only do they work, they feel amazing, sink into skin instantly, and cost under $30. You can't get any better than that. 
The Boots No7 Protect & Perfect ADVANCED & Protect & Perfect Intense ADVANCED Serums are available at Target/Target.com now.
Keywords
Get the latest beauty news and inspiration!
Sign up for our newsletter to receive the latest from Beauty Blitz delivered straight to your inbox.