Buy Now: NARSskin Travel Sets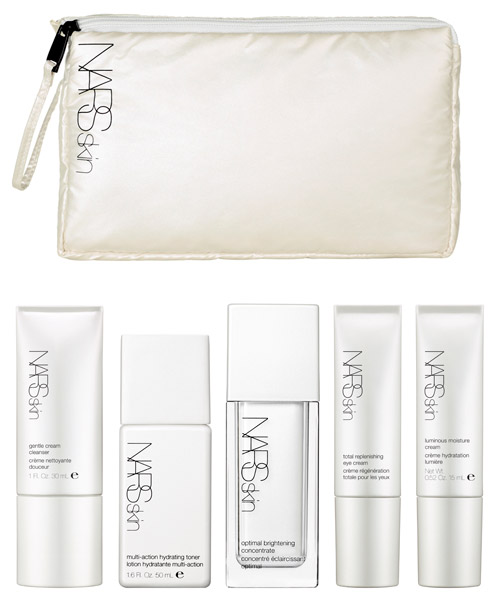 There are two reasons to love skincare travel sets. The first and most obvious is having a TSA-approved bundle of products to take along with you on vacays and mini weekend getaways. But, let's face it; we all don't have the luxury to cruise around in tropical places with our handsome actor boyfriend (we're looking at you, Stacey Kiebler) during the frosty winter months. Still, you shouldn't rule out travel sets yet. Those who don't jet set as often can still make good use out of smaller skincare portions (and you don't have to wait until your next vacation to try them). They're the perfect buy for whoever is looking for a new skincare regimen but doesn't want to commit to full-sized bottles, not to mention full-sized prices. Seriously, you can't go wrong with a pre-packaged skincare regimen that's bigger than a measly sample, but smaller and cheaper than buying five or six full-sized products. Which brings us to these brand new NARSskin Travel Sets.  
If you have yet to try Nars Skincare (where have you been?!) or if you're looking for a new regimen for the New Year, why not take a stab at one of these two bundles of conveniently sized products developed by the brand's Founder and Creative Director Francois Nars? Each one costs $140 for five full size and travel size products stashed in a sleek bag. The Luminous Aqua Set includes products that target oily/combination skin, while the Luminous Moisture Set targets normal/dry skin. Both include a full size Optimal Brightening Concentrate and Total Replenishing Eye Cream, and a travel size Multi-Action Hydrating Toner. The Luminous Aqua Set also includes a travel size Purifying Foam Cleanser and Aqua Gel Luminous Oil-Free Moisturizer, while the Luminous Moisture Set includes a travel size Gentle Cream Cleanser and Luminous Moisture Cream. Have we mentioned that both are perfect for dry winter skin? 
The NARSskin Travel Sets are available at Nars.com and beauty counters now! 
Keywords
Get the latest beauty news and inspiration!
Sign up for our newsletter to receive the latest from Beauty Blitz delivered straight to your inbox.