Buy Now: NCLA x Glamour Designer Nail Wrap Kits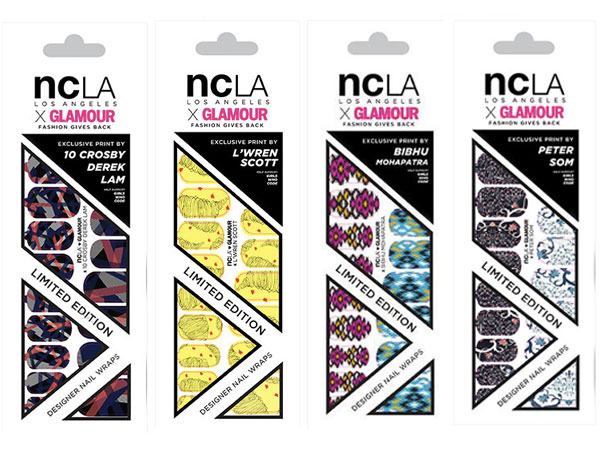 For the average person, snatching something right off the runway is close to impossible. Let's face it; shelling out thousands of dollars on one piece of clothing is just down right cruel to our wallets. Wallowing in pity is just something we're not willing to resort to. We'd rather use the energy to wait on line outside of H&M or Target to get our hands on the next best thing: designer collaborations. Unfortunately, designer collaborations are slacking in the beauty department. Sally Hansen dabbled in the aspect a few months ago with two Salon Effects featuring prints from Prabal Gurung's Spring 2012 collection (which sold out in a heart beat). Ever since then we've been trying to fill the void with DIY nail art, but it's just not the same.
That's why we're extremely excited about this NCLA and Glamour collaboration. The nail brand and fashion magazine have joined forces to create four exclusive nail wrap prints featuring designs from the resort collections of 10 Crosby Derek Lam, Bibhu Mohapatra, L'Wren Scott and Peter Som. Each print is taken right off a piece from the collection: a dress from 10 Crosby Derek Lam, Bibhu Mohapatra and L'Wren Scott, and a jacket from Peter Som. If you ask us, we kind of prefer them on our nails anyway! Oh, and did we mention that proceeds of the nail wrap purchases are going to Girls Who Code, a nonprofit organization that helps girls pursue careers in technology and engineering?
These nail wraps are just too cool for words, and the fact that we're helping others (as well as helping our wallets) makes the collaboration that much better. All you need is clear nail polish and a nail file (it comes with your purchase!) to complete the look. At just $16 a pop, you can buy multiples in each print. So, what are you waiting for? Make sure you grab these limited-edition nail wraps before they're gone!
Keywords
Get the latest beauty news and inspiration!
Sign up for our newsletter to receive the latest from Beauty Blitz delivered straight to your inbox.