Cat Deeley Reveals What She Does When She Feels "Like a Bit of a Beast"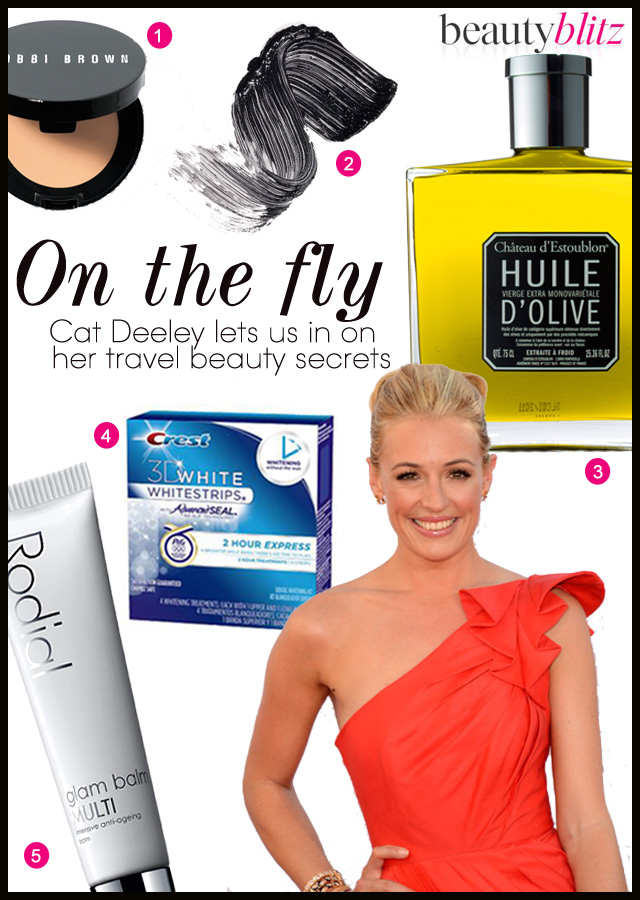 1. Bobbi Brown Creamy Concealer, $23 at bobbibrowncosmetics.com 2. Lancome Definicils High-Definition Mascara, $26 at lancome-usa.com 3. Chateau Estoublon Extra Virgin Olive Oil, $60 at zabars.com 4. Crest 3D White Whitestrips 2-Hour Express, $55 at drugstore.com 5. Rodial Glam Balm Multi, $59 at skinstore.com
We caught up with Cat Deeley at the Hudson Hotel in New York City to celebrate the lighting of the Rockefeller Center Christmas tree. As she logs frequent flyer miles jetting from London to Los Angeles, she manages to stay in fighting form. Here are the most valuable players in her suitcase.
"I've definitely honed down my beauty secrets for travel. I have a face spray by Dr. Lancer, a Glam Balm by Rodial. I cover myself in it. That's the only way to do it. Either I look OK on this flight or I look completely, hideously, horrendously, horrifically ugly and as though I'm about to swim the Channel. I take all my makeup off and then put all this moisturizer on. But then when I get off at the other side, I actually don't feel too bad. So it's kind of one of those things that works. Sometimes I use olive oil. And then Emergin-C I use. I either use lemon-lime, the five calories, or I do raspberry if I fancy. And then I do Bobbi Brown concealer when we get to the other side. And then Chanel eyelash curler and some Lancome mascara. Curling my lashes, it's one of those things that really works for me.
I try to do as much beauty prep so that when I don't do anything, I look OK and kids don't screaming in the supermarket to their moms, you know what I mean. I get my eyebrows done. I get my eyelashes tinted. I get my hair done by Negin [Zand] at Sally Hershberger. She's amazing. She's revolutionized my hair.
And the Crest Whitestrips Two Hour. I don't do the half hour because I can't fit them in every day and I'm rubbish at keeping to a schedule like that 'cause I'm always dashing around all over the place. So I do the Crest Whitestrips Two Hour whenever I feel like a bit of a beast. It's one of those things where if you just do a little - it's like if you use a face mask. If you're feeling dehydrated and you just slap on a great face mask, you feel so much better afterwards. It's exactly the same thing, you know? And you don't realize that over the festive season, of course, we have a glass of red wine or if you wake up at three o' clock in the morning, three cups of coffee. And it's all about a bit of give and take. Like if you're going to have a glass of champagne, drink a glass of water as well. If you're going to have red wine and coffee, use the Crest Whitestrips. It's simple, but you just have to try and manage everything. Sometimes I do, and sometimes I don't."
 
Keywords
Get the latest beauty news and inspiration!
Sign up for our newsletter to receive the latest from Beauty Blitz delivered straight to your inbox.