Caudalíe Founder Launches A New Blog
These days, it seems like every beauty company maintains a blog. For some larger, more established companies, the blog is usually for posting news and updates about the company and their products, but the more noteworthy ones embrace the voice and viewpoints of its unique founder. Case in point: Notes From Mathilde, by Mathilde Thomas, the founder of Caudalíe.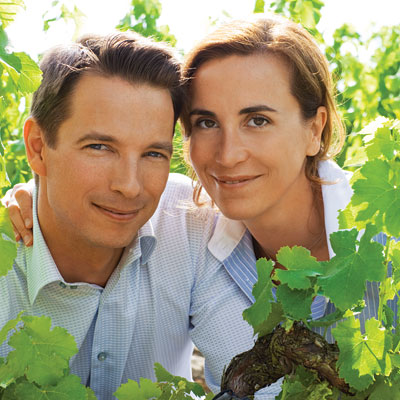 Mathilde with her husband and co-founder of Caudalie, Bertrand Thomas.
Mathilde collaborated with Professor Joseph Vercauteren, a world renowned expert on grape and grapevine polyphenols, to pioneer the use of grape-seeds in her skincare line. Professor Vercauteren's success in stabilizing the polyphenols contained within the grape-seed is the secret behind the products, which harness the polyphenols' antioxidant power. In addition to the Caudalíe product line, Mathilde has opened five Vinothérapie Spas for their grape-based treatments in France, Spain, Portugal, and New York.
According to Mathilde, she created the blog "to share the unique experience behind-the-vines of Caudalíe." In addition to news about the company, she'll be sharing "what inspires me – from my favorite places to art and music to beautiful objects for the home," she said. Other contributors to the blog will include Dr. Vercauteren, Vinothérapists from Mathilde's spas, and other relevant experts in fashion and beauty.
-Diana, Intern
Keywords
Get the latest beauty news and inspiration!
Sign up for our newsletter to receive the latest from Beauty Blitz delivered straight to your inbox.