Chanel Saved Me From A Pimple On Live TV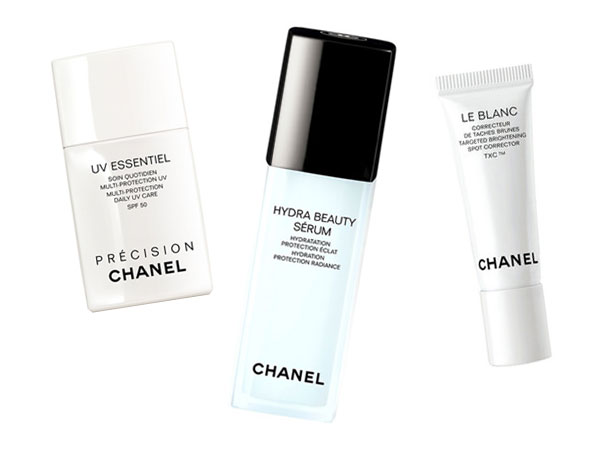 When Polly asked me if I wanted to model holiday hair and makeup for a live TV segment she was doing this week, how could I pass up a few seconds of fame? But my excitement turned into terror when I woke up on Monday morning with a ginormous zit on my cheek. It was obvious that this monster was planning to take away my spotlight, but I refused to go down without a fight. Thankfully, Chanel came to my rescue. The luxury brand has partnered with NYC dermatologist Dr. Amy Wechsler to create a series of professional in-office treatments using Chanel products. I had an appointment to try the newest treatment, Diamond Microdermabrasion with Hydra Beauty Serum. 
My appointment couldn't have come at a better time. Before my blemish could get worse, I was in Dr. Wechsler's chair ready for my treatment. The 20-minute procedure started off with two passes of the Diamond Microdermabrasion. The name might sound a bit scary, but it just felt like someone was going over different areas of my face with a tiny vacuum cleaner. The light suction gave me an amazing mini-massage and there was no redness or irritation post-treatment, just a radiant complexion. Following the micro, Dr. Wechsler's assistant applied a generous layer of Chanel Hydra Beauty Serum, which contains blue ginger and hyaluronic acid to hydrate and protect the skin, and Chanel UV Essentiel SPF 50. Sunscreen is especially important after microdermabrasion when a fresh layer of skin is exposed. I could see my skin beaming the minute the products absorbed. My face looked luminous and hydrated. Microdermabrasion is not a pimple cure-all, but my blemish did calm down by the time I got home. 
Before I went to sleep, my complexion still looked luminous and felt smooth and soft. But the stubborn pimple was still threatening to take over my face. A car was scheduled to pick me up at 5:30 A.M. I looked at my reflection in the mirror in horror. Kara, Chanel's lovely public relations girl, had given me a bag of Dr. Wechsler's favorite Chanel products, so I once again turned to Chanel to answer my skin prayers. Luckily, Chanel Le Blanc Targeted Brightening Spot Corrector TXC inside. Now I know it's more of a brightening product that targets spots and hyperpigmentation, but I was prepared to try anything to avoid going on live TV with a big pimple. By this morning, my pimple had shrunken dramatically to a barely-there tiny red speck. No bump. And it vanished completely under a mere dab of concealer.
The CBS Holiday Beauty Trends segment went off without a hitch - and my skin looked flawless on camera! Moral of the story: Chanel is my savior. 
If you're in the NYC area, I urge you to make an appointment with Dr. Wechsler for a Chanel treatment. If you're not a New Yorker, she is without a doubt worth the trip.
Dr. Amy Wechsler Dermatology, 3 East 69th Street (between Fifth & Madison); 212-396-2500 
Keywords
Get the latest beauty news and inspiration!
Sign up for our newsletter to receive the latest from Beauty Blitz delivered straight to your inbox.