#SummerProblems: How to Prevent Chlorine-Damaged Hair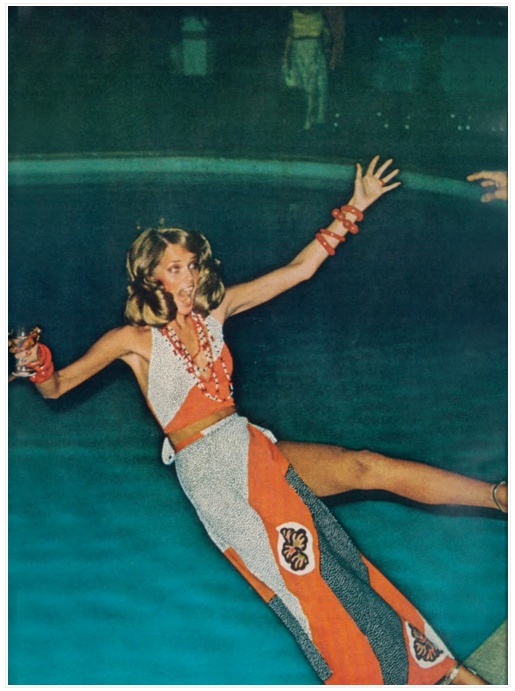 Photo: Helmut Newton 
While the weather might be gorgeous, some summertime staples are anything but pretty: think tan lines, sweat-streaked mascara and chlorine-green hair. This season, we're solving your #SummerProblems so you can focus on more important matters...mojitos by the pool, anyone? 
If the fear of chlorine damage is the only thing stopping you from cannon-balling into a pool this summer, that's all about to change.
Those dull, brittle and sometimes green-tinted strands caused by swimming can be avoided — with the right care, of course.
 We spoke to Living Proof Creative Director and hairstylist
Tim Rogers
about how to prevent and treat chlorine damage.
"The reason chlorine kills all the germs in pools is because it is a very corrosive ingredient," says Rogers. "Ultimately, hair becomes dull and brittle because the chlorine is tearing away the cuticles and making a coating on hair." 
But what most people don't know is that you can prevent chlorine damage the same way you prevent sun damage -– by creating a barrier on the hair's surface. Rogers says, "Whether you're going to the beach or pool, wet the hair, apply a mask and spend the day wearing the mask." Simple as that. "As the mask dries, you can layer it with a UV protector (like Living Proof's new
Restore Revitalizing Spray
)," he adds. "Because if you're near chlorine, you're obviously going to get UV damage also. That's why those two combined are just so corrosive to the hair."
After spending the day at the pool, you're going to want to rinse out all traces of the mask and chlorine from your hair using a clarifying shampoo. Rogers says, "Not only does it get the mask off, it will get all the residual stuff out of the hair. And just a really, really good fresh water rinse. Again, if you're by a swimming pool — if it's a public pool or a club pool — the water used in the shower may be heavily chlorinated also. So take a bottle of Evian and give your hair a clean, clean rinse." 
As for your hair turning green, it's not even the chlorine that's to blame! "Actually, chlorine doesn't turn blonde hair green," says Rogers. "Oxidized metals like copper in the water bind to the hair's cortex and deposit their color tones. The bleach that is added to a pool may be responsible for oxidizing the metal, but chlorine itself isn't the culprit." But if you think you'e in the clear because you're a brunette or redhead, think again. "Reds and brunettes can have their color neutralized for the same reason. The green effect of oxidized metals in water can kill the color vibrancy," he adds. 
If your jokester buddy ends up pushing you in the pool before you were able to slather on a hair mask and your hair turns green, don't panic. All it takes is a simple cocktail of things that are most likely already in your fridge (especially if you had a Bloody Mary in the morning) to get the unwanted color right out. 
"I mix a 1:2 ratio of vodka and tomato juice," says Rogers. "The vodka acts as an astringent or clarifier. The red tomato juice works by neutralizing the green (red is opposite green on the color wheel). Always finish with a great conditioner like
Living Proof Perfect Hair Day
." 
More #SummerProblems:
Keywords
Get the latest beauty news and inspiration!
Sign up for our newsletter to receive the latest from Beauty Blitz delivered straight to your inbox.