This Korean Brow Product Transforms Arches to Perfection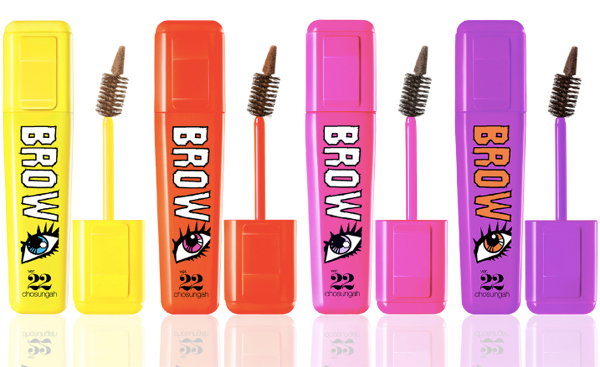 The first time I filled in my brows was life changing. It's crazy how just a little bit of color and grooming takes your look to the next level. Since then, I haven't left my house without perfectly filled-in arches; even if it was just to run an errand. Powders used to be my go-to, until I tried Chosungah 22's Brow Maker. 
If you've never heard of Chosungah 22, allow me to introduce you to your new favorite makeup brand. It was founded by Cho Sung Ah, Korea's first major professional makeup artist and a huge influence in the Korean beauty industry since the early 90s. She was even the first Korean makeup artist to collaborate with MAC Cosmetics on a limited edition lipstick. It's safe to say that Cho Sung Ah is kind of a big deal. 
What I love most about Chosungah 22 is their playful approach to beauty. It's one thing to have an epic product, but when the packaging is on point, you've hit a home run with me. I would be lying if I said the funky packaging wasn't the first thing that drew me into the brand. 
Back to The Brow Maker. Like I said, I've been using powders since the beginning. I found them to be easier than pencils and not as messy as creams or pomades. But The Brow Maker is a gel that offers the best of both worlds and it's all in the applicator. The unique, two-in-one wand features an angled brush to groom arches while lightly coating them with a tinted, waterproof gel formula. There is also a pointed sponge tip that allows you to get into nicks and crannies, defining the brows to perfection. Once the gel dries, those brows aren't going anywhere until you wash them off.
The formula is blended with phytokeratin, which is known to nourish and protect the brows, too. Plus, the packaging is adorable and the four shades are beyond easy to match. I have platinum blonde hair and it's hard for me to find a shade that doesn't make my brows look orange, and the Medium Blonde hue is ideal. 
You're probably thinking it's going to be a nightmare finding Chosungah22 in stores, considering it's a Korean beauty brand. But lucky for us, the line is available at Sephora now. Run; don't walk. Get The Brow Maker
online
and in stores for just $22. 
Keywords
Get the latest beauty news and inspiration!
Sign up for our newsletter to receive the latest from Beauty Blitz delivered straight to your inbox.