Chris Benz on Hair, Makeup and Color
Chris Benz has been collaborating with Lancome for awhile, and whether you snagged his exclusively designed bag at Saks or not, you can totally appreciate his take on beauty, fashion and color.
So just how many years has it been since Chris Benz and Lancome started  their love affair? "It's gonna sound like a lot," Chris said. "The upcoming spring show will be our 17th collaboration. Because we've done three a year for over five years."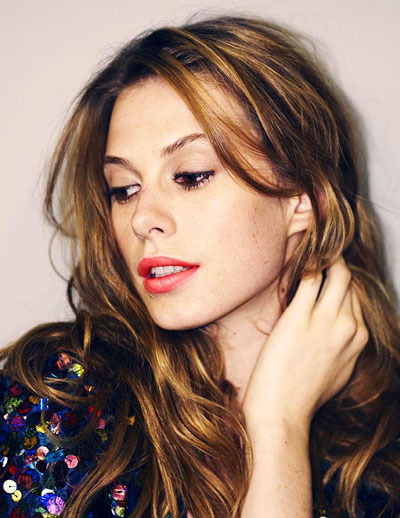 Chris was introduced to Lancome through his friend Elettra Wiedemann, who also happens to be a face for the brand, and she's the one who modeled the coveted Chris and Tell lipstick back in 2010!
Even though Chris may be better known for his fashion designs, makeup is still an integral part of his creative process. "Even from the beginning of our inspiration boards we all always had some kind of general makeup direction/image on the board," Chris explained. "Whether we actually use it in the end is ancillary because we'll do whatever the show version of it is - there's always something communicating whether the eyes or the lip would be the most important look from the collection."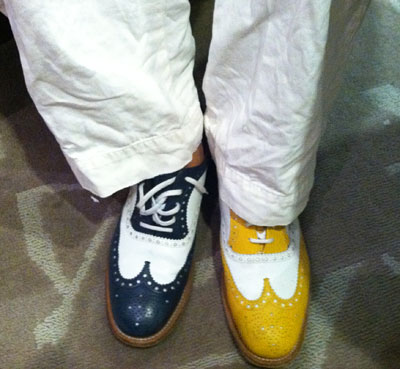 Whether in fashion or beauty, Chris has a thing for color. "For me, I like to play with color a lot in my accessories. I do it in shoes - I have loads of colorful shoes," Chris said. "I recently tried to experiment with color in my hair, which I think is so fun and so easy for anyone to do, and it's like a built in accessory because you don't have to wear one fun thing if you have colorful hair," Chris explained while showing off his shocking pink head of hair.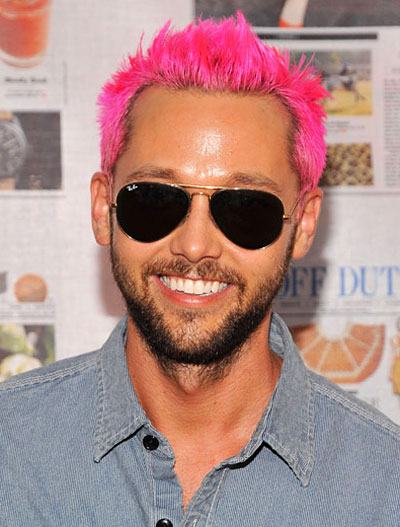 "People are really starting to understand bottoms as a place to play with color – like in our collection we've been doing a lot of colorful pants, printed pants, that sort of thing. Which is sort of new to people in a lot of ways and kind of comes out from that very Lily Pulitzer idea of always wearing a white shirt and blue blazer and a colorful pants."
While Chris may be dubbed the Prince of Color, he considers Issac Mizrahi to be the King of Color. "I feel like Isaac Mizrahi is probably the king of color and always such an inspiration with his specific color palette," he said.
Micheal Matula of Mud Honey Salon is Chris' go-to hair guy. "He's always super supportive of anything. He's the one who did my multi-colored hair and he's done all of my haircuts pretty much all of the time I've lived in New York." In case you want to get that same pink hue, Chris is currently rocking Manic Panic in Cotton Candy Pink.
"I've gone platinum blonde before. I've had a bowl cut. I've had a Mohawk. I had a flat top and stripes," Chris said. "But I don't have any piercings or tattoos or anything, so I feel like it's my one thing that I can change around that isn't so permanent."
As for skincare preferences, Chris has a nice mix of high and low. "I'm obsessed with Lancome Genifique ever since it first came out. It's so outrageous and you feel like an angel when you wake up. The night cream, the day cream, the serum is amazing. That's really all I do - and Oxy Pads, which I used since middle school."
Keywords
Get the latest beauty news and inspiration!
Sign up for our newsletter to receive the latest from Beauty Blitz delivered straight to your inbox.