C.O. Bigelow: How the Oldest Apothecary Stays Current
If you live in (or ever visited) New York, you know sense of wonder that overcomes you when you visit the original C.O. Bigelow location in Greenwich Village. You can discover so many wonders just from marveling at all the different products. As the oldest apothecary in the country, we wanted to know a little bit more. We spoke with owner Ian Ginsberg and found out about Mark Twain's account records not to mention you can still buy Brylcreem!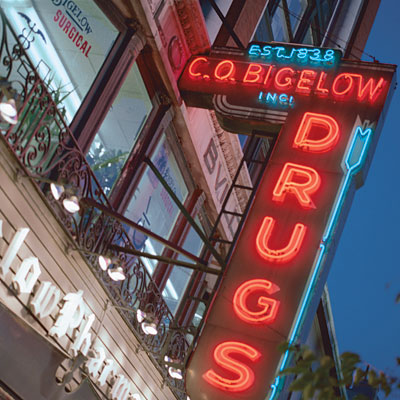 C.O. Bigelow's Grennwich Village location.
How did America's oldest apothecary come to be?
The store was founded in 1838 as the Village Apothecary Shoppe by Dr. Galen Hunter on 6th Avenue below 9th Street. Most apothecaries in the 19th century were founded by doctors. One would go to the apothecary for diagnosis and treatment for all ailments. The apothecary was passed on from employer to employee and in 1880 the shop was taken over by Clarence Otis Bigelow and the name was changed to C.O. Bigelow. In 1902 Clarence built the Bigelow Building and moved the business two doors north to our current location at 414 Sixth Avenue where we remain today.
 
What traditions from 1838 are still around?
We are first and foremost dedicated to patient care - we want to take care of you. Our mission is to make a visit to C.O. Bigelow a "want to," not a chore. Our mantra is "Genuine, Honest and Trustworthy." Whether it be for health care or beauty advice, we want to our customers to trust us to give them genuine and honest advice. I tell my staff their responsibility is to show up on time and make people happy.
 
How has C.O. Bigelow evolved?
No matter how young or old or where you were raised - everyone has some memory about being dragged to see the local pharmacist at some point in their life. I think for most it was a great experience...Most shopping experiences have been taken away and I believe that the apothecary experience is one that we didn't want taken away...I love the web but sometimes it's nice to have someone you can rely on to help you with solid advice. Regardless of what's happening or what stage people are in life they crave things that are real and genuine. We define ourselves but staying true to our traditions. Hopefully when you step inside our doors you feel like you're stepping into a comfortable place and a welcoming environment. We also hope that you have a clear idea of what we stand for. I find for myself that I have favorite stores I like to visit and it's not always about what I can buy there, but how I feel when I'm there - the overall experience.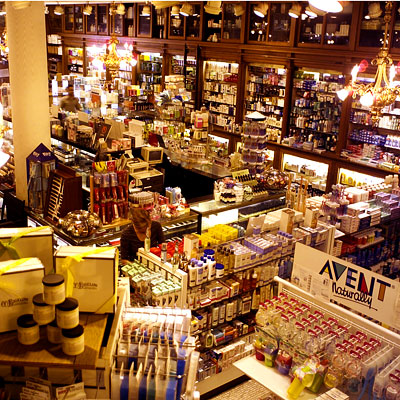 Every nook and cranny is filled with great products.
 
What were some of the original products carried in the store?
One of our taglines is, "If you can't find it anywhere else, try Bigelow's." There are so many great products out there that got lost in the sea of planograms. Because of our assisted-sell environment we can keep these great products alive by helping customers (a novel idea!) and recommending our favorite things. With our assortment there are "formularies," original formulas that date back to the 19th century, i.e. Lemon Body Cream, Lotio Mentholus, Peach Nut Oil Soap, Dr. Hiousus Quince Hand Cream, Dr. Keightley's Mouthwash, and Bay Rum Cologne.
 
Any vintage products that are still popular?
There are ton of vintage products that we still love that are amazing i.e. Albolene, Dr. Botot's Mouthwash, Proraso Shave Cream, Frownies, Bonne Bell Bronzer, Maja and Mango Soap, Pinaud Moustache Wax, Boroleum, Borotalco...the list goes on and on.
 
Have any old school products faded away?
For us, most things never fade away. We still carry plenty of old salves, crème rinse, cake mascara, hair tonic. In some case the originals aren't available but there are newer ones. For instance, I believe Rimmel and Maybeliine were pioneers in cake mascara, but these days we sell Longcils Boncza. We also still sell Pinaud Hair Tonic and Brylcreem Hair Groom. We love the classics and have the ability to explain what they are and how to use them.
 
What are some of the celebrity favorites?
Myth says that Thomas Edison came in to get some salve to soothe a sore finger while he was working on the light bulb. We have Samuel Clemens' (Mark Twain's) charge account records and all we know is that he paid his bills on time. We also have charge account records for Ms. Conde Nast, Ten Eyck and tons of notable New Yorkers at the turn of the century. My personal memories begin in the late sixties from working at the soda fountain and delivering. In the 70's it wasn't uncommon to see the New York Dolls, the Belushi's and the rest of the SNL cast, William Kunstler, Ramsey Clark and other artists, writers, poets, and entertainers sitting side by side at the fountain talking politics. Some even had their own stool and would be there more for breakfast, lunch and dinner. Today celebs like Sarah Jessica Parker and Katherine Heigl, can be seen picking up their favorite Mentha Lip Shines, and Kelly Ripa and Liv Tyler frequent the store to stock up on Lemon Body Cream.
Even if you're not near C.O. Bigelow's New York location, you can always check out a selection of their inventory online at bigelowchemists.com.
Keywords
Get the latest beauty news and inspiration!
Sign up for our newsletter to receive the latest from Beauty Blitz delivered straight to your inbox.