11 Makeup Artist Tips for Contouring a Flawless Complexion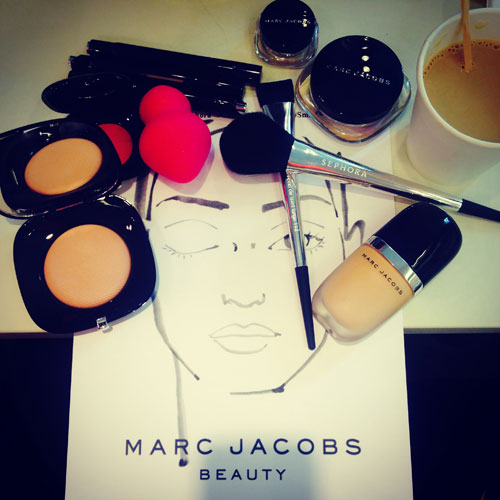 We admit that the "complexion" part of applying makeup is not as exciting as crafting a severe cat eye or sexy smokies, but it has to be done, right? Although face makeup has come a long way from the cake frosting formulas of past decades, the right technique is still crucial for a perfect application. We spent a morning with Sephora PRO artists Erik Soto and Hector Espinal to learn their tips and tricks to faking a flawless face. You're going to want to bookmark this. 
How to contour like a pro
We're not sure when contouring became such a huge thing (thanks, Kim Kardashian), but we're still trying to perfect it. These tips from Soto and Espinal make it easy.
1. Get to know your face. Before you start chiseling your way to perfect bone structure, you need to know what shape your face is. Take a look in the mirror and figure out if you have an oval, round, square or heart-shaped face. This will help you know where you should be contouring. For example: if your face is round, contour in the lower cheek and jawline area to help elongate your face shape.
2. Pick your shades and formulas.
Many think that contouring is best achieved with powder bronzers, but that's not always the case. Using a foundation that's one to two shades darker than your skin tone gives you a more natural-looking contour for daytime. Try
Marc Jacobs Beauty Genius Gel-Super-Charged Foundation
, a lightweight gel formula that lets your skin's natural radiance shine through and stays put all day. Make sure your base foundation and your contour shade are the same brand and formula. "It will flow better," says Espinal.
Save your powders for girls' night out; Soto says bronzers work best for nighttime. That's when you'll need a stronger and warmer contour, best achieved by powders. 
3. Sponges are your friends. Sure, you can use a fancy brush, but sponges work best for contouring because they mimic the texture of skin. 
4. Mark your territory. Take a makeup brush and position the handle diagonally from the top of your ear across your face. This is where you should be shading. Also, another area people usually forget to contour is under the jaw line. It gives the illusion of more prominent bone structure. "Creating illusion is the point of contouring," says Soto.
5.
Keep the center of the face light.
You want the contouring to frame your face, bringing the eye to the center. Espinal recommends using a concealer like
Marc Jacobs Beauty Remedy Concealer Pen
to highlight. Create a "C" shape going around the eye at the temple. Start at the end of the brows and follow the C to the cheekbones.  Then, dab some concealer under the hollows that you've created for the cheeks. This will make the contour more prominent. Don't forget the center of the forehead, nose and chin. 
6. Blush seals the deal. Blush should be applied on the apples of the cheeks. Keep it at least two fingers away from the nose to maintain a brighter center. 
More complexion rules to live by
Soto and Espinal also gave us some awesome tips on applying primer, concealer, bronzer and more. Keep reading!
7. Fill in pores. We know it sounds like a bad idea to purposely clog your pores with makeup, but hear us out. If you have larger pores, Soto suggests using your fingers to push the product into them, minimizing their appearance. He promises you won't break out as long as you wash off all your makeup every night, of course. Try pressing liquid foundation onto skin with a damp sponge. Use half moon motions to work the product in everywhere. 
8. Own your crevices. According to Soto, a truely creaseless concealer doesn't exist. He suggests using the same pressing technique for fine lines and crevices around your eyes. "Apply concealer with a fresh sponge and then push it upwards into your crevices with your finger," he says.
9. If you're streaking, you're using too much product. Less is more, guys. It's better to start off with small, thin layers and build up. If you find your foundation streaking, you've applied too much. 
10. The right primer makes all the difference. To make sure your foundation doesn't slide off halfway through the day, Soto recommends using a primer that leaves you with a tacky finish so the foundation sticks. "You don't want too much silicone in your primer, because the makeup will slide right off it," he says. Silicone primers are best for skin with larger pores, but don't apply too much! 
Primer with hyaluronic acid (we love
Kat Von D's Rehab Priming Elxir
) is also beneficial to your look. It helps plump the skin, making crevices less prominent. 
11. Bronzer shouldn't be perfectly placed. Think about it, you don't get the same, even tan all over, so bronzer doesn't need to be perfectly applied. Dust it on cheeks, forehead, nose and chin effortlessly, and blend, blend, blend! 
Keywords
Get the latest beauty news and inspiration!
Sign up for our newsletter to receive the latest from Beauty Blitz delivered straight to your inbox.