Couture-Punk Japanese Swans at Zac Posen - Fall 2012
At Zac Posen, it was all about Japanese glamour. Both hair and makeup were an epitome of the sculptural elegance of Japanese architecture.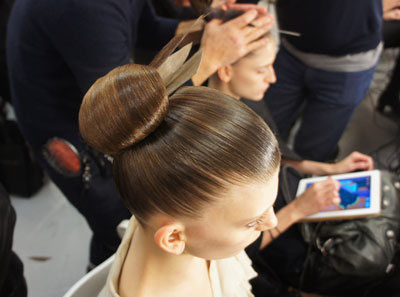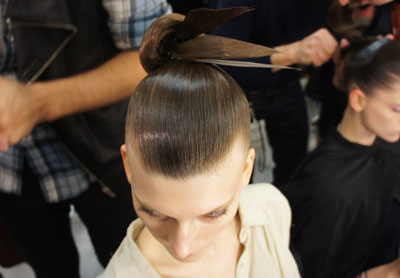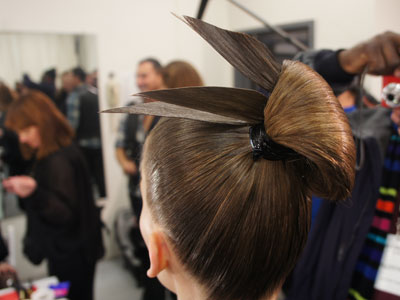 Luigi Murenu for John Frieda turned the models into "couture-punk Japanese swans." He created a gorgeous, graphic chignon fully equipped with bondage tape and "Murakami" hair inserts. He began by tying a sleek ponytail with bondage tape, then turning the pony into a structured chignon. "It's like very high technology because everything is sculpted and graphic… just like Japanese architecture," Luigi said. For the final touch, he created "Murakami" pieces - sleek and stiff cuts of hair extensions - and pinning them into the chignon. "It beautifies the face and creates these beautiful creatures," he added.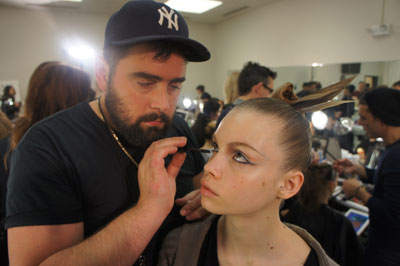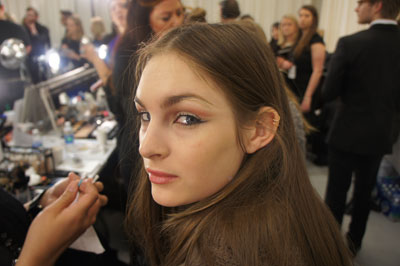 The Japanese culture continued over in makeup where Kabuki for Mac Cosmetics "combined Hollywood glamour with Japanese couture." He winged out the eyes and sculpted the shadow to "elongate the eyes." He then painted on a precise lacquer red/orange mouth. "It [the lip] makes the eye seem delicate," said Kabuki. He also added a "slight frost" to the cheekbone and eyelid.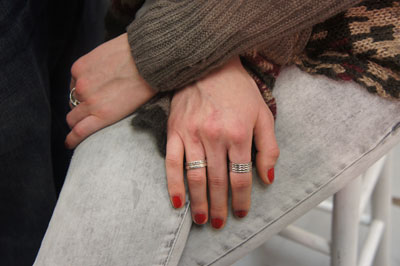 The models' nails were painted a bold red to match the lips. The nail artists called matching the lips with the manicure "lip tip." They used 'Flaming Rose' - a new MAC polish that will come out this fall.
Keywords
Get the latest beauty news and inspiration!
Sign up for our newsletter to receive the latest from Beauty Blitz delivered straight to your inbox.