Get Cheeky: Your Guide to Mastering Cream Blush
Photo: Toni Garrn by David Slijper for Elle France
As a beauty editor, I'd like to think that I'm pretty well-rounded when it comes to makeup. With an endless supply of brands, formulas and colors at my fingertips, one would assume that I've conquered the basics. But truth be told, there is one makeup product that I have yet to master – cream blush.  
As an avid BB cream and foundation wearer, I've always thought that applying a cream blush on top of a complexion product would just look sloppy — so I've always been just too chicken to try it. But with all the pretty new cream blush launches this season, I figured I'd face my fears and give them a whirl. 
Before dipping my brush into a compact, I enlisted two top-notch makeup artists, NARS National Makeup Stylist Lucinda Baretto and Guerlain National Makeup Artist Marcus Monson, to help me make the transition into creams a little easier. You wouldn't trade your PC for a MAC without hitting up the Genius Bar first, would you? Consider this your beginner's guide to cream blush. 
Is cream blush right for you? 
Whether you want to switch over to the cream side for good or just try it out for special occasions, you must consider your skin type. "If you have dry skin, cream blush is beneficial as it blends better and gives a more youthful glow and more luminosity," says Monson. "Cold climates also benefit more with a cream blush as they add moisture that the cold air can take away." But if you've got normal, combination or oily skin, don't rule yourself out just yet. "Choosing cream over powder is based on personal preference; it depends on what you would like the end result to be," says Baretto. "Someone who is looking to create a more radiant glow might prefer using cream formulas over powder, for example." 
There are so many different types of cream blush – liquid, cream compact, cream sticks, gel, cream-to-powder – that there's is really no wrong answer when it comes to which type you should buy. For beginners, Baretto recommends focusing on the shade rather than the type. "Opt for a lighter tone, something that is buildable, until you get accustomed to blending and working with the formula," she says. Monson, meanwhile, says beginners can safely go for the cream-to-powder formulas. "Most skin types can wear this formulation and they are pretty much mistake-proof." 
There is one skin type that should probably avoid cream formulas altogether. "I always recommend that someone who has extremely oily or textured skin stay away from creams," said Baretto. "Cream formulas make shine more prominent and, on textured skin, it will make any imperfections more pronounced." But, if you really, really want to try it, Marcus recommends setting it with a powder blush "to help matte the skin." 
Tools of the trade
No, you don't have to run out and buy a special tool just to try a new blush formula. Actually, you don't need a tool at all! "For cream blush, you can never go wrong with your own best tool: your fingers!" says Baretto. "The warmth of your hands will help blend product better than any brush, making the finish look like a more natural flush of color." 
For a more seamless look, Monson recommends synthetic, small foundation or highlighting brushes. "You can sweep them lightly over the cream blush if you don't want to use fingertips," he says.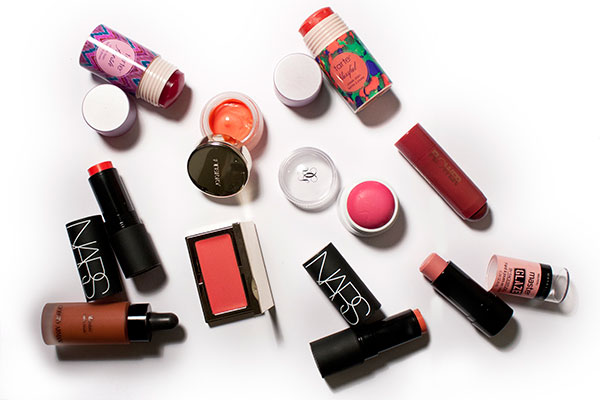 Photo by: Taylor Cox
Application time!
If you're like me and won't leave the house without a veil of BB cream or foundation on, you can still rock creams. First, Baretto says to always prep with a moisturizer and primer. "It's the key to a flawless look. It will help everything applied on top go on much smoother." Go ahead and apply your usual complexion products, but don't let them set! "Make sure your foundation is still slightly moist, as the cream blush will blend in more evenly and effortlessly," says Monson.
If the color you purchased is too vibrant, don't return it. Baretto says, "You can opt for a sheer loose powder and dust it over the blush to tone down the color. This is always a quick-fix solution that works miracles without making a mess."
To apply cream blush like a pro, Monson says, "From a makeup artist's point of view, I like a cream blush just on the apples of the cheeks with a small amount blended backwards. Start the cream two-fingers-length away from the nose to ensure the perfect symmetrical application. I then use a powder blush in the same area, but I carry the blush back and up slightly. Think 'O' shape for cream and 'C' shape for powder." 
"When using fingertips to apply cream blush, your fingertips have that added warmth to help melt the cream blush into the complexion," Monson adds. "Using your index and middle fingers, pat lightly into the blush and then onto apples of the cheeks. If using a brush, sweep the brush over the cream, then stipple onto the apples of the cheeks while smiling and sweep backwards, reaching almost to the ear area." 
If at first you don't succeed…
Dust yourself off and try again! Practice makes perfect, so don't just quit if you mess up. It's actually really easy to tone down the color if you apply too much. All you need is a makeup sponge (try a 
Beautyblender
; they work wonders!). Baretto also recommends using a translucent loose powder to diffuse the color. 
Not just for cheeks
Channel your inner MacGyver with these genius tips. "A unique way I use cream blush is by applying it on the eyes for a quick, on-the-go pop of color or using it as a base before creating a smoky eye so there is less blending. The creamy texture will help the powder shadow glide over your eyelid smoothly," said Baretto. "Also, using a deeper shade of cream blush to contour the face is always a favorite of mine to define your bone structure. This is a great trick because with cream, you can apply it either before or after applying foundation." 
Shop it
Giorgio Armani Maestro Blush, available in April 
Keywords
Get the latest beauty news and inspiration!
Sign up for our newsletter to receive the latest from Beauty Blitz delivered straight to your inbox.