Sally Hansen Let Us Create A Custom Shade of Miracle Gel Polish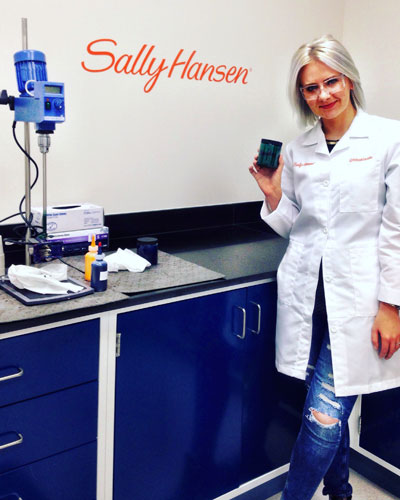 When the team at Sally Hansen invited me to their labs in New Jersey to create a custom shade of their beloved
Miracle Gel
polish, the only answer was an overly enthusiastic "YES!" I began thinking about what color I wanted to create immediately. The collection already features some of my favorite hues, including Terra-Coppa, a sleek, metallic champagne/copper mash up that's a cool alternative to a nude nail. But I wanted something different; I wanted a hue that not many brands conquer for some reason. I ended up deciding on a dark, forest green because it's surprisingly not in the Miracle Gel lineup yet. Plus, with the holiday season coming up, I thought it would be a great option for a not-so-traditional holiday manicure. 
The day started with a quick presentation about the brand's new shade collections, Digital Overload and Glam Rock, which were created with the help of the brand's Global Color Ambassador,
Madeline Poole
. I was happy to see that my chosen shade was not in the new collection, making it even more special. But there was one hue that I couldn't wait to get my hands on: Let's Get Digital, a beautiful, iridescent robin's egg blue with pink shimmer that's like nothing I've ever seen before. (The new collection will launch in December, so keep an eye out!)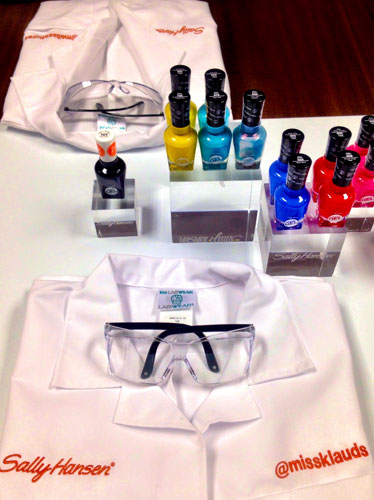 Once we had our lab coats and goggles on, we were swept away to the labs to start mixing our polish. The team took me and a few other editors and bloggers to a room with two large mixing machines sitting on top of a counter surrounded by bottles of colorants. For the sake of time, the base was already pre-made for us, which looked like a jar of whisked eggs. One of the key ingredients in the base is nitrocellulose, a material mixed with tiny cotton fibers that creates a film that binds the other ingredients and colorants together. 
When adding the colorants, the formula has to be mixed at top speed. The trick it to make sure it doesn't splatter everywhere or create any bubbles. Remember, we're making nail polish, not milkshakes. The mixers we used were heavy-duty machines with a propeller blade that blends the colors evenly by creating a vortex.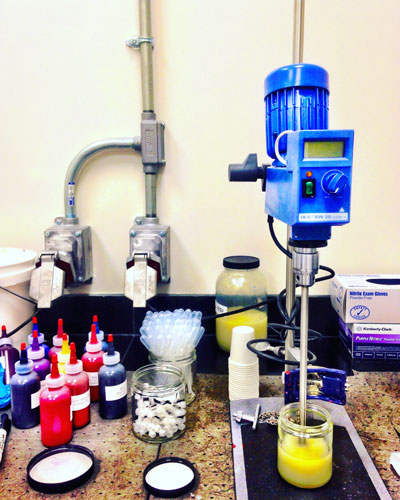 I realized that my forest green shade needed a larger variety of colorants than some of the other hues that were created in the room that day. Other editors opted for pale pinks (a mix of red and white colorants) and dark navy (a blend of blue and black colorants), a.k.a. hues that only needed a maximum of two colorants each. Mine, on the other hand, required four colorants to achieve. The blend started with a large amount of navy colorant, followed by a mustard yellow colorant to transform the blue into green. A few drops of white colorant were added to the mixture to soften the green a bit, turning it slightly olive. Finally, we added a lot of black to "dirty up" and darken the color. Once my shade was perfected, the team swept it away to be bottled up. 
While we waited for our finished product, we were taken to another lab to learn more about the process of creating nail polish. After all, it's not just about mixing big batches of colors and pouring them in bottles. The chemists do a variety of shade tests, and color matching and gloss readings to ensure each hue was made to perfection. They even conduct an "impact resistance test," where a weight is dropped on a plate covered in polish to stimulate what our nails go through every day. This helps the team create a formula that won't chip the minute you hit your nail on something. 
Finally, our polish was ready and we were taken to the on-site salon (where all the polishes are tested on real nails) and given a mani with our custom hues. Not to toot my own horn, but my forest green was a big hit with my manicurist, the Sally Hansen team and even Madeline Poole. Getting praise from Poole herself made me question whether I'm on the right career path. I should probably be mixing new hues for a living instead of writing about them? But that would require a lot of extra schooling, so I'll pass.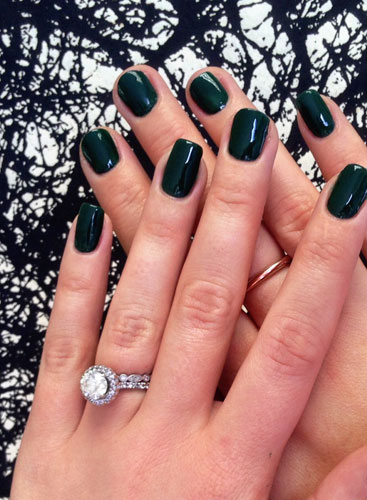 The hardest part of the process was probably naming my polish. There are actually people whose jobs require naming polish, and after thinking long and hard about mine, I realized that is no easy feat. My manicurist was the one who helped me name my polish. We were both talking about how much we love Rihanna while she was painting my tips, that she whispered to me, "you should name it 'B*tch Better Have My Money,'" after Rihanna's epic single. Because, you know, the polish is green like money. It was either that or "Mo Money, Mo Problems," because I clearly love me some Biggie, Puffy and Ma$e. 
Both of the names are cool, so I'll let you decide what you want to name your polish. That's right, we're giving away five bottles of my custom Miracle Gel polish over in our
Free Stuff section
on Friday, November 20th! Since I got to customize the hue, I'll let the winners customize the name. Good luck!
Keywords
Get the latest beauty news and inspiration!
Sign up for our newsletter to receive the latest from Beauty Blitz delivered straight to your inbox.