Davines' Sustainable Hair Products Get a Makeover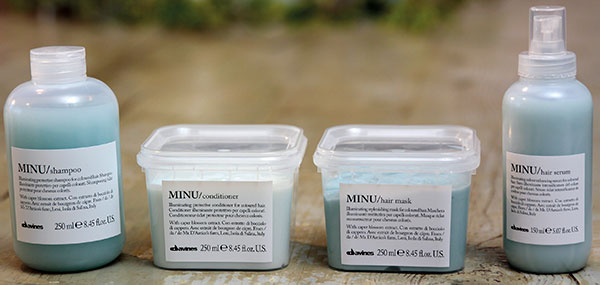 Davines is one of those under-the-radar brands I can't get enough of. Between the sustainable products, chic, reusable, food grade packaging and gorgeous hair results, the family-owned brand from Italy is doing everything right. How can you not love a brand that suggests re-using their minimalist packaging as planters?
Sustainable beauty
 is the new black.
Davines just re-launched their beloved Essential Haircare line, with complete updates on all of its nine product families and the birth of a new range strictly for color-treated strands (more on that later). The products are produced using energy from renewable sources, Zero Impact packaging and the reduced use of plastic. 
But the environmental friendliness doesn't stop there. Davines recently partnered up with the non-profit
Slow Food Foundation
to help subsidize the protection of biodiversity on our planet and support agricultural economics. That means one specific active ingredient in each Essential Haircare family is sourced from a Slow Food Presidium and highlights the story, face and name of the farmer who grew it (!!). It's kind of like this restaurant I went to in Hawaii on my honeymoon, which tells you the name of the fisherman who caught the seafood on the menu that morning. Amazing, no? It's called Mama's Fish House, incase you're wondering. Moving on… 
Now, back to Davines' newest haircare collection,
Minu
. The four-product range is all about illuminating and protecting color-treated strands using Salina Caper Blossom extract from the
Slow Food Presidium
– the farm of Mr. Salvatore D'Amico from Leni, Salina Island, Messina to be exact. This ingredient is a powerful antioxidant that has a protective effect on hair, keeping it strong and healthy. Minu includes a shampoo and conditioner, illuminating and restoring hair mask and leave-in hair serum to extend the life and brilliance of your color. 
The rest of the Essential Haircare collection includes: Nounou for dry or damaged hair from treatments like highlights, perms, etc; Momo for dry and dehydrated hair; Dede and Solu for all hair types and daily use; Love for wavy or curly strands, Love Smoothing for frizzy, unruly hair; Melu for long or damaged hair; and Volu for fine hair. Pick your poison and get in on the sustainable beauty phenomenon now. 
Keywords
Get the latest beauty news and inspiration!
Sign up for our newsletter to receive the latest from Beauty Blitz delivered straight to your inbox.