Dick Page on Glossy Lids for Real Life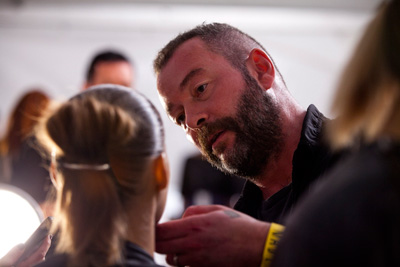 (Photo: Mat Szwajkos for Beauty Blitz)
High shine eyelids have become something of a staple on fresh-faced runway looks, but the idea of slicking Eight Hour Cream on my own eyes has always seemed like a messy proposition.
Backstage at Marc by Marc Jacobs, Dick Page, Creative Director of Shiseido the Makeup and lead artist, offered a solution:
"The problem with the gloss on the eyes sometimes, is if you use something that's really greasy-greasy, that's really horrible. Use something that's glycerin or silicone based, that has a little sheen to it. Or use a shiny shadow that's super finely milled, the same color as your skin tone and then just pinch it between your fingers with a little gloss, and just rub that in. It's much more stable."
Keywords
Get the latest beauty news and inspiration!
Sign up for our newsletter to receive the latest from Beauty Blitz delivered straight to your inbox.