Peter Philips Reveals Another Lust-Worthy Liner Look at Dior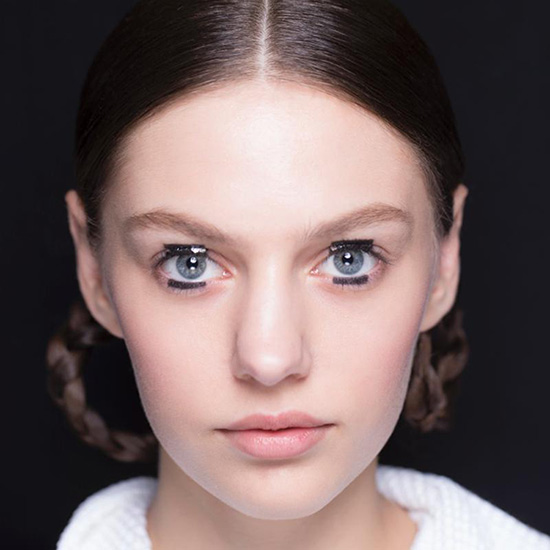 Photo courtesy of Dior
Just when we thought there weren't any more
ways to wear eyeliner
, Peter Philips comes along with yet another jaw-dropping look for Dior.
This time, at the fashion house's Pre-Fall 2015 Collection held in Tokyo, Japan, he traded his famous stick on liner strips for an old-school pencil to create a graphic look inspired by Kabuki makeup. 
"I wanted to design a make-up look that had a very strong visual impact, focusing on an 'electric' eye that was both graphic and abstract," says Philips. "I was mainly inspired by Kabuki make-up with its codified, dramatic aesthetic that plays on the abstract nature of this visual strangeness. I also wanted to create a play on light to reflect the shiny, glittery elements that were omnipresent throughout this Pre-Fall collection and that give the make-up look a slightly Manga feel."
Using the new-for-June-2015 Diorshow Pro Liner in Pro Black, Philips created a rectangular shape on the top lid just above the iris, moving it down to the lash line. He followed suit with another block of liner on the lower lash line. The inner and outer corners of the eyes were left bare, but then comes the mascara. Instead of coating every single lash with
Diorshow Mascara
 in Catwalk Black, Philips only painted the lashes within the rectangular liner shape. Finally, he added a bit of sparkle for a "robotic" effect. 
"This makeup looks just as good from far away as it does in detail. Using the new Diorshow Pro Liner was so easy, it encouraged me to create this cubic block with clean lines," he says. "I also wanted to punctuate the look with a flash of light, so I applied some jumbo-sized glitter to the centre of the upper eyelid at the lash line, which then catches the light when the eyes close, creating a pretty spectacular 'robotic' glitter effect."
Keywords
Get the latest beauty news and inspiration!
Sign up for our newsletter to receive the latest from Beauty Blitz delivered straight to your inbox.