DIY: This Soothing Mask Will Cool You Off After A Day In The Sun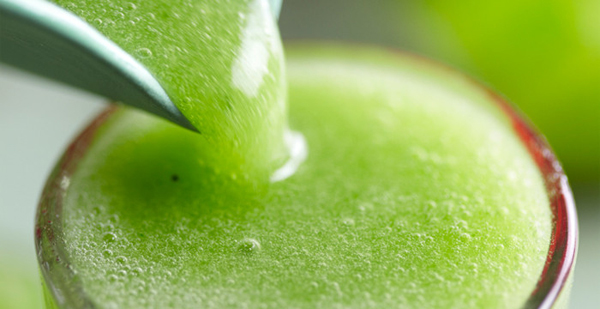 The holiday weekend is kicking off and we're all getting ready for some fun in the sun. While we know that urging everyone to wear sunscreen is starting to sound like a broken record, we'd be remiss not to mention it before Fourth of July weekend. Don't say we didn't warn you. But even if you're applying and reapplying the strongest SPF, your skin still gets a beating from the sun. This soothing recipe from beauty expert Julie Ricevuto of
YouBeauty.com
is the perfect way to cool off skin after a day in the sun.
Ricevuto's DIY Green Radical After-Sun Mask features a blend of ingredients (most of them are already in your fridge!) to provide anti-inflammatory benefits while targeting UV damage and fighting free radicals. 
"Summer is meant for long days spent outside with family and friends, but with days out in the sun, a scorching sunburn may seem inevitable," she says. "Skin is left feeling sensitive and hot to the touch after a burn, so it's vital to incorporate anything cooling and soothing to your delicate skin after UV exposure. The Green Radical After-Sun Mask works with ingredients that are refreshing and instantly calming, which are both essential for optimal sunburn recovery." 
Here's what you will need: 
2 or 3 kale leaves
1 cucumber
2/3 cup chamomile tea, cooled
6 mint sprigs
2 tsp citrus pectin 
The process doesn't get easier. Simply blend all of the fresh ingredients together. Once blended, add the citrus pectin to the mix until it thickens. That's it! Keep it in the fridge and apply it to a freshly washed face, leaving it on for 10-15 minutes. Then rinse well. 
"The cucumber and chamomile act as an anti-inflammatory, while the kale contains vitamins A, C, and K to target UV damage and heal the skin cells," says Ricevuto. "Therefore, by combining this potent mixture of ingredients, your skin is immediately relieved and permanent sun damage is minimized in the long run."
Make sure you whip this up before the festivities so you have it handy as soon as you wind down after a long day. 
Happy Fourth, everyone!
Keywords
Get the latest beauty news and inspiration!
Sign up for our newsletter to receive the latest from Beauty Blitz delivered straight to your inbox.