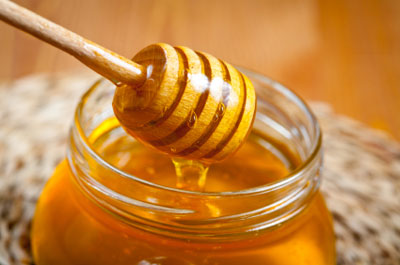 One of the key features of my childhood was watching a cartoon Winnie the Pooh navigating precarious tree branches for a taste of honey - and the episode always ended with him smeared in the stuff. Well, it turns out Pooh Bear's taste buds weren't the only parts that benefited from his escapades. I learned last week at a National Honey Board event for beauty editors that honey is a natural humectant that hydrates the skin. The board has even conducted a scientific study to prove honey's benefits as a moisturizer.
Honey has long been a popular ingredient in products such as hand lotions, bar soaps, and bubble baths. But you can also make your own beauty treatments using the honey in your cupboard, according to Gretta Monahan, founder of the salon/spa boutique Grettacole, who frequently uses honey in her spa treatments.
After the presentation, we were given Gretta's recipe for a Honey-Infused Facial, which works to cleanse and moisturize your skin using three simple ingredients that you can easily find in your kitchen.
Gretta Monahan's Honey-Infused Facial
Makes 1 treatment (Use within 2-3 hours)
1 tablespoon honey (cleanses and moisturizes)
¼ cup of oatmeal (soothes skin; rich in Vitamin E)
3 tablespoon plain yogurt or Greek yogurt (softens and soothes)
1. Finely grind oatmeal using a blender or food processor; set aside.
2. Using a spatula, stir together honey and yogurt in a small bowl.
3. Add the finely ground oatmeal to the mixture and mix thoroughly. Consistency should be smooth.
4. Apply mixture to face and neck. Leave it on the skin for 10-15 minutes.
5. Rinse with warm water.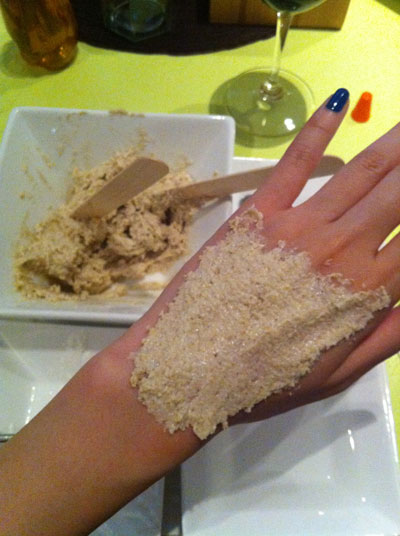 This is how the mixture looks - nice and thick!
I made a batch following this recipe down to the letter and tried it when I got home. I used a wooden spatula to scoop the product out and spread it on my face and neck (it's easier than using fingers since the mixture is sticky). Within a few minutes, I felt my skin start to tighten as the treatment hardened, just like a store-bought mask. When I washed it off, my skin felt refreshed and was soft to the touch.  
I also had on a lot of hair spray that day, and remembered that Gretta advocated using honey in lieu of olive oil to condition hair because it was easier to wash out. Prompted by what Gretta said, I decided that I might as well comb some of this concoction through my hair and see how it fared. I usually have to pile on massive amounts of shampoo 2-3 times to wash off that amount of hair spray, and even then there will be vestiges left till the next wash. When I showered the mixture off, I felt most of the hair spray slip away, though out of force of habit I did follow up with a small dose of shampoo.
This recipe was a pleasant surprise, and it is now permanently on my DIY list. While the idea of spreading food on the face might not be that appealing, I promise the results are worth it!
- Xiao, Beauty Blitz Intern at Beauty Blitz office
Get the latest beauty news and inspiration!
Sign up for our newsletter to receive the latest from Beauty Blitz delivered straight to your inbox.