A Face Moisturizer That Gets Rid of Hair!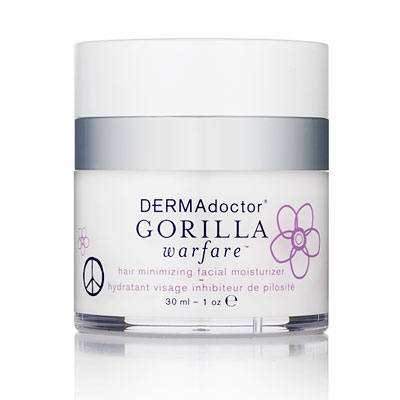 Not sure if you saw Regis and Kelly this morning, but two wives had their husbands backs waxed by Cindy Barshop of Completely Bare. Sure, men have more hair than us, but women spend more than their fair share of time removing hair - legs, bikini lines, pits and, yes, the face!
I already am a fan of DERMAdoctor's Gorilla Warfare Hair Minimizing Antiperspirant (not to mention the KP Duty Body Scrub, too)! But now Dr. Kunin is taking that technology and applying it to DERMAdoctor Gorilla Warfare Hair Minimizing Facial Moisturizer ($50). Really, the only hair I pluck on my face are my brows, but for the person constantly worrying about their upper lip or some cheek fuzz that glistens in the right light, this product is genius!
The lightweight cream won't clog pores, and it's gentle enough to be used twice a day. There are over 10 hair growth inhibiting ingredients - I won't spout out all the very scientific names, but Dr. Kunin list the names and how they work on her site, so you know just what's going on that complexion of yours!
Keywords
Get the latest beauty news and inspiration!
Sign up for our newsletter to receive the latest from Beauty Blitz delivered straight to your inbox.