FDA Gets Tougher on Sunscreen Labels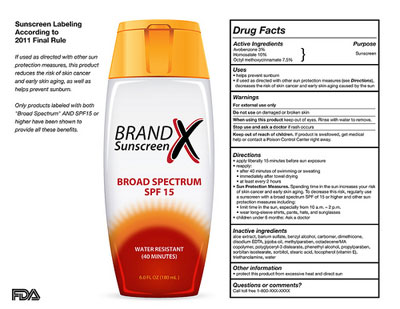 An example of the FDA's new sunscreen label (click to enlarge)
Remember when we last talked about how so many of the sunscreens on the market are totally useless against wrinkles and skin cancer (because they don't protect against UVA)? And how lots of labels basically lie by making misleading claims like "waterproof" (no sunscreen is) and "all-day protection" (when SPF only lasts 2 hours)? Well, today the FDA finalized stricter sunscreen labeling rules that have been held up for over a decade. This is big news that will impact the way all of us buy sunscreen.
Here's what's changed:
UVA labeling is now mandatory.

Broad spectrum sunscreens will carry a
label such as "Broad Spectrum SPF 30." The sunscreens must pass the
FDA's test for both UVA and UVB protection, and must have a protection
factor of 15 or higher.
Sunscreens that

don't

protect against UVA or have a broad spectrum SPF
below 15 will

carry a warning

: "This product has been shown only to
prevent sunburn, not skin cancer or early skin aging."
"Waterproof" and "sweatproof" are out; water resistance claims now have a
time limit. Labels will designate water resistant formulas as effective
for either 40 minutes or 80 minutes, based on standard testing.
"All-day" and "instant" protection? No way. Sunscreens can't claim to
protect immediately or for more than 2 hours without reapplication.
A "

Drug Facts

" label, like the one on over-the-counter medicines, will appear on the bottle.

Sayonara, SPF 100:

The agency has proposed a rule (which means it's
still up for debate) that limits the maximum SPF value on labels to
"50+" since "there is not sufficient data to show that products with SPF
values higher than 50 provide greater protection."
Manufacturers will have to comply with these new rules by summer 2012, but you might see new labels roll out earlier. Until they do, make sure your sunscreen passes our "is it legit?" test.
Get the latest beauty news and inspiration!
Sign up for our newsletter to receive the latest from Beauty Blitz delivered straight to your inbox.