The Best Natural Skincare Ingredients + More Secrets of Botanical Beauty Brand Founder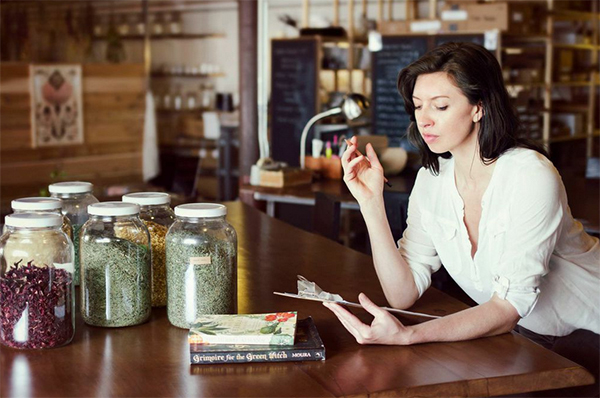 If you've been to an Urban Outfitters or Anthropologie store lately, you may have noticed a line of sleekly minimalist, glass packaged beauty products with names ranging from the delicious-sounding (Cleansing Nectar, Basil + Cardamom Lip Balm) to the unusual (Floral Milk Bath, Mustard Soak).
Fig + Yarrow
, has been producing these "small-batch, handcrafted organic health and vanity products" for the past four years, and has recently caught our attention as one of the most promising
all-natural, indie beauty brands
out there. We spoke with Fig + Yarrow's Denver-based founder and chief "apothecary artisan" Brandy Monique to find out the story behind the line and how she came to run a successful natural beauty business.
When did you start the brand and how did you become interested in botanical formulations?
"The brand officially started in 2010, and it kind of came to me during meditation. But of course there was a whole precursor to that; it wasn't just like a lightning bolt. Around that time I was actually studying psychology, but I was taking some elective courses in herbalism and the study of plant medicine, and those classes really spoke to me and reignited my interest in herbs — which I had always had, but I never thought to pursue it. I made these kinds of products here and there for gifts, but it wasn't until I was taking these classes that it really hit me and I said, 'This is what I want to do.'"
Did you feel like there was a gap in the market for something like this?
"Yeah, I think that's what I had to come around to. A lot of [natural] products sounded interesting but they fell short, or they looked too hippie. I just had a lot of thoughts about what an all-natural skincare line could look like.
"I wanted it to be a health, home and vanity line. I did want to create a line that would be able to offer the most pure products to replace the products that were notoriously toxic. So, hygiene products, beauty products, home products and then also a few extras that could be used by either gender. My main aim was to replace the most toxic products."
What inspires you when you create products — ancient recipes, herbs used by other cultures, anything like that?
"The
Tooth Powder
, for instance, is kind of based on an ayurvedic formula — loosely, I mean it's definitely my own spin on it. But it's kind of like fusion cooking. You're taking a concept or you're taking something that might be traditional, and you tweak it a little bit. The
Mustard Soak
is a very traditional one, but I've tweaked that one a little bit, too. 
"For the most part though, products like the
Alpine Pumice Foot Treatment
— that's a two-in-one, so you get something that's scrubbing and also a balm. So it's kind of like a solution for [products] that might be a little bit lacking, where I saw you could actually have a two-in-one. The
Cleansing Nectar
is a cleanser and a toner, so it does at least those two things plus it addresses the pH balance. There are a lot of basic formulas that I've just tweaked."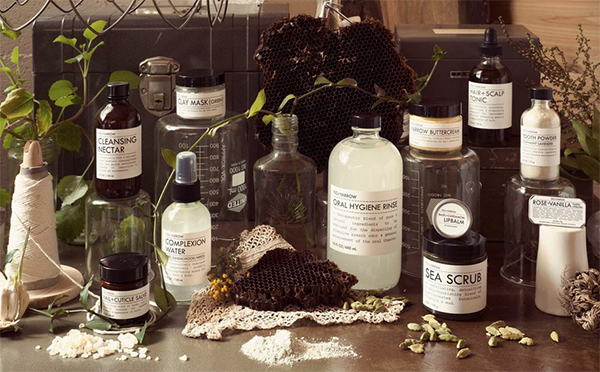 What goes into sourcing your ingredients?
"From the start I was sourcing locally, and that was very difficult at a certain point — it was just unreliable. But the one thing that I look for is exceptional quality and integrity of the people that I'm sourcing from. That becomes extremely difficult, actually, and to find everything in one place. So I've looked around for smaller operations that source from farms, or I go direct to the farms.
"At the beginning I used to harvest the horsetail, and then I had someone harvesting it for me locally. Tumalo [a farm in Bend, Oregon], for instance, they provide our lavender. They grow the best lavender that I've ever experienced. It's a combination of altitude and the fact that they only grow lavender. He is very serious about his lavender — he actually ages all of his lavender, all of the essential oil and the hydrosol that we get. He's kind of like a winemaker of lavender."
What was the first product you created? 
I created a lot of products that I couldn't remember the recipes for, so they never returned because at the time I was experimenting and I wasn't keeping track very well. One of the first products that's still around is the
Meadow Bath + Body Oil
. I created the lip balms pretty soon after I started, so the
Lip Blush
and the
Basil Cardamom Lip Balm
. 
What type of customer is buying your products?
"It's really diverse, and sometimes I'm surprised. There are a lot of younger people — like, Urban Outfitters type crowd. Our products are doing really, really well at Urban. But we were first picked up by Anthropologie, so I feel like that's definitely reflective of a huge portion of our audience. And about 10 percent or so, and that fluctuates, is men."
What are a few of your favorite botanical ingredients with skincare benefits?
"Lavender is a go-to because it's very cleansing and it's just got this fresh scent to it. Rose is also a good one — it's always represented beauty. Sandalwood is a favorite of mine. It's less of a cliché beauty ingredient but the benefits are so tremendous. I put it in the
Rose/Sandalwood/Neroli Complexion Water
, and it's really good for maturing skin. It's really good for fine lines and wrinkles, it's good for moisturizing the skin. It's anti-inflammatory, so it can help if you have any kind of inflammation from acne or skin irritation in general, it can help calm that down. And chamomile is so excellent. It's skin lightening and it's calming and does so many things."
What's next for the brand?
"I have a lot of ideas for things, and I really have a whole shave section on hold for awhile. That's been a highly requested category, and it's gender neutral. Everyone shaves. I kind of want to introduce women to the benefits of aftershave, and the whole prep thing, too. Using a shave oil before you shave can really help to reduce things like nicks and ingrown hairs. It's just like a three or four step process."
Keywords
Get the latest beauty news and inspiration!
Sign up for our newsletter to receive the latest from Beauty Blitz delivered straight to your inbox.