Alexa Chung Tells Us the Secret to Her Perfect Cat Eye; Her Worst Beauty Habits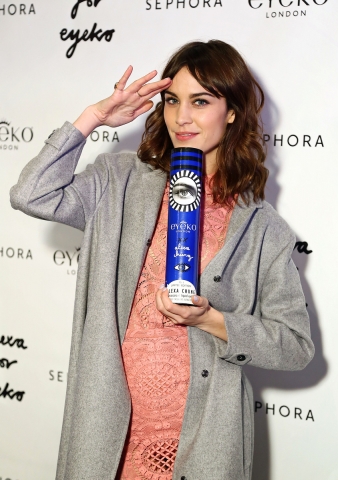 A collaboration between a British It girl and a major British eye makeup brand sounds like a match made in heaven, no? Alexa Chung certainly thinks so. "I just thought it would be really fun to do this collaboration and put my spin on a product I already loved," she told us at the launch event for her Alexa for eyeko Limited Edition Set. "It just seemed a bit like I was Tom Hanks in Big. I was like, 'What! I get to do this?'"
The minute she referenced the movie Big, I knew it was going to be a great conversation. In the short amount of time I got with her, she managed to crack me up at least three times. How could I not enjoy talking to a hilarious celeb rocking Burberry from head to toe? Who speaks with an awesome British accent? I mean…
If you know anything about Alexa, you know that the girl can rock a cat eye like nobody's business — another reason why a collaboration with eyeko made perfect sense. She joked that it took her 30 years to perfect her cat eye; so what's the secret? "Basically just doing the flick bit first and then filling it in," she said. "Other than that it's just really hard practice. Because everyone's eye is a different shape." (Check out her tutorial below!)
Surprisingly, someone as perfect as Alexa has vices. (Celebrities: they're just like us!) When asked about her bad beauty habits, she answered, "I don't take my makeup off before I go to bed… I smoke." Both of those also fell under the category of her New Year's Resolutions. "Quit smoking; start taking my makeup off before bed" are both on her list.  Good luck, girl. 
Finally, what does an It girl keep in her handbag? Her answer will surprise you. 
"I really don't have anything in there. I can't even deal with a purse or a wallet. I just have one card. So if it fails and gets declined, I'm out. Like, I always get a fear in the taxi that it's not going to work. And then I'm like,  'Oh no, I don't have any other money with me. Sorry!' I'm kind of absent-minded so it's better if I don't have anything on me. It's just a loss waiting to happen. I am a loss waiting to happen."
Told you she was funny. 
The Alexa for eyeko Limited Edition Set ($39) is available at Sephora.
Photo by Sarah Jaye Weiss; courtesy of eyeko. 
Keywords
Get the latest beauty news and inspiration!
Sign up for our newsletter to receive the latest from Beauty Blitz delivered straight to your inbox.