How to Put Off Wearing Tights for as Long as Possible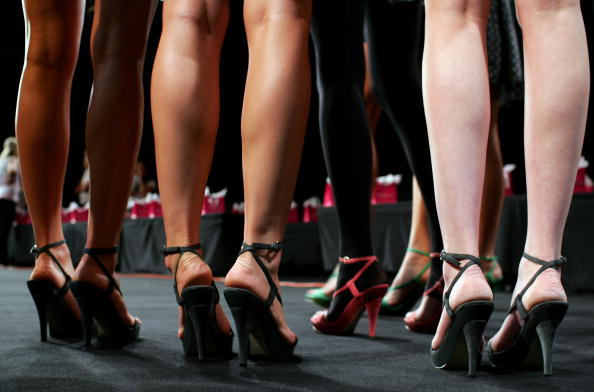 Photo: Getty Images
I have no issues with sweater weather — bring on the leather jackets and boots, I say — but don't even talk to me about tights. I gave them up a few years ago and never looked back, because they are simply the worst. Let me count the ways: Their tendency to leave a squiggly seam imprint on your abdomen for hours after you take them off? The fact that they always seem to be either baggy at the knees or drop-crotch level short because they only come in three sizes to fit the entire population? Give me bare legs, or give me pants.
Luckily, right now (in New York, at least) we're in the seasonal sweet spot where both naked legs and layers are simultaneously appropriate. It also happens to be peak wedding season, so there's most likely a cocktail dress in your immediate future. Both of these are prime reasons to step up your gams game while you still can; here's how.
Cover Up Flaws
If bruises, veins or mosquito bites have left your legs splotchy, do what the pros do and fix those imperfections with makeup. But don't just repurpose your undereye concealer or foundation; for body blemishes, you need a product with staying power.
"Using a small synthetic brush (my favorite Shu Uemura's Synthetic Fiber brush #5F), apply as precisely as possible on the spot," Scali says. "Remember it is a building process, so start with less and repeat as necessary. Tap with your finger to melt and blend into the skin. Finish with a tiny touch of translucent powder or any powder that closely matches your skin color."
Tint and Tan
Sometimes all you need to even out your skin tone (and downplay dimples) is a little bit of color. Before you shimmy into your party dress, prep your legs with
St. Tropez Luxe Dry Oil
($50), which moisturizes skin while it develops a golden tan. "It's also fantastic to apply before a big night out, with an instant golden shimmer on application," says St. Tropez Skin Finishing Expert Sophie Evans. "The dry oil finish and subtle sheen really make the skin and muscle definition pop!" Pro tip: Use an applicator mitt to apply it unless you want to be hiding bronzed palms in your pockets all night.
If you'd prefer color that washes away at the end of the evening, try
Caudalíe Divine Legs
($38), a tinted lotion that leaves legs with a hint of color that dries quickly and won't transfer onto clothes or, god forbid, leave streaks on your clean freak sister-in-law's white sofa.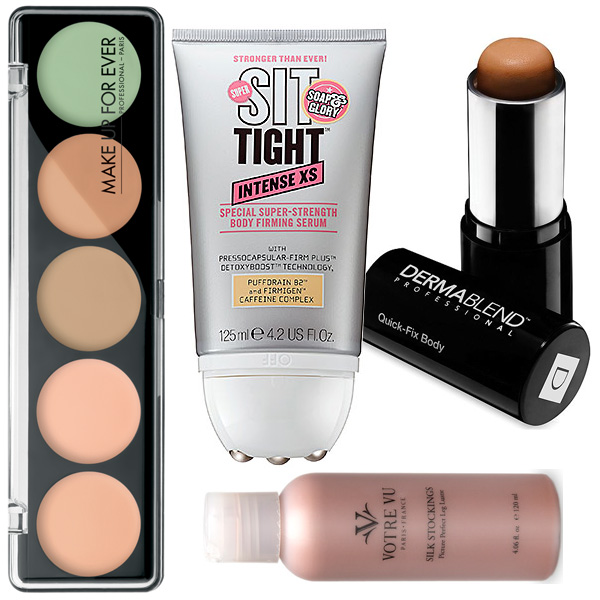 Products for flawless legs.
Shine and Shimmer
Not up for a tan, but just want to leave your legs looking like their most spectacular selves? You'll want a product that leaves a sheen, like
Nuxe Huile Prodigieuse
($39-46). The dry oil comes in both
shimmer
and
non-shimmer
versions, both of which smell amazing and soak into skin so you're not left feeling slippery.
Don't want to mess with an oil? On the lotion front,
Votre Vu Silk Stockings Picture Perfect Leg Luster
 ($34) looks bronze in the bottle, but is pale girl approved. No fakey orange tint here; it left only a subtle, pretty shimmer on my alabaster legs. 
Tone and Tighten
Cellulite: the struggle is real. Unfortunately, most of the so-called treatments for it are not. Pageant queens swear by the Preparation H and Saran Wrap trick — just slather and shrink wrap — but we're skeptical. What does work, albeit temporarily, is caffeine. The ingredient temporarily constricts blood vessels, which can reduce the appearance of lumps and bumps.
Soap & Glory Sit Tight Intense XS Special Super-Strength Body Firming Serum
($38) uses pressure-sensitive microsphere technology to release caffeine when you sit down — yes, really. I felt like it made my thighs look noticeably smoother, but the tingly burning sensation it leaves was a bit intense. I'll save it for special occasions — like a perfect 70-degree short skirt and boots kind of day.
Keywords
Get the latest beauty news and inspiration!
Sign up for our newsletter to receive the latest from Beauty Blitz delivered straight to your inbox.