Fornasetti Profumi Debuts New Spring Scent + 21 Ways to Reuse Pretty Candle Jars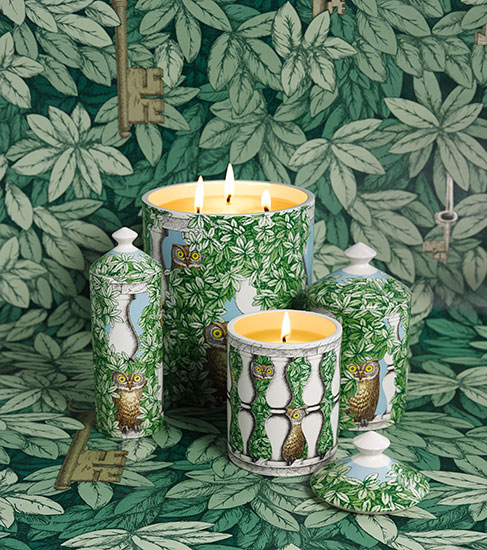 I like to think of fancy candles as pieces of art that just so happen to imbue my home with a delicious scent. A beautifully crafted, high-luxury flame immediately turns my tiny abode in the suburbs of New Jersey into Buckingham Palace. Many brands come to mind when I think of a luxe candle, but only one reigns supreme:
Fornasetti Profumi
. Their artfully crafted, handmade ceramic jars have always been major eye candy to me, and the latest spring offering is no exception.
I spoke with Laurent Delafon, co-founder of United Perfumes (the company that creates and distributes Fornasetti Profumi), to give me the scoop on Giardino Segreto, the dreamy new owl-adorned range for spring. 
Every Fornasetti scent has its own olfactive story. The entire collection revolves around the Fornasetti family home in Milan. For example, the brand's signature scent, Otto, represents the inside of the home, while the Flora di Fornasetti captures the essence of the gardens outside. But the brand opted to create an imaginary landscape with the spring scent, using their signature owl design. 
"It's an idea of searching in a jungle of leaves; searching for your true self," says Delafon. "You've also got these magical creatures, the owls, which are the symbol of wisdom and philosophy. They look up at you and help you with your journey."
As for the scent, Giardino Segreto evokes an aroma that fits with the stone balustrade covered in greenery design. 
"It's the idea of contrast of stones with dry, earthy mineral notes and green leaves," says Delafon. "There's a lot of bergamot, ivy and vetiver. Bergamot and ivy reflect the green notes made sparkly by the bergamot; the vetiver is green and dry at the same time; and cedarwood is like the through-line." 
Giardino Segreto is available in a 10.5 ounce scented candle, room spray and the large, 65 ounce scented candle which I learned serves multiple purposes once the candle burns out. 
"The large sized candles are always very popular because they're beautiful decorative elements. And when you're finished — like all our objects — you can use it for whatever you want. The whole idea behind the collection is that you recycle and reuse it. All the objects are handmade in Italy and Portugal. They are hand decorated and finished, so there is a real sense of craftsmanship."
Delfono's clients in Europe are all about recycling the ceramic canisters for different household purposes. 
"I've got a client in Paris who has one on her table when she serves shellfish. She uses it for what we call 'poubelle de table' (a.k.a. a table-top bin) in French, which is to get rid of the shells," he says. "We have clients that keep them in bathrooms and living rooms. You can store your makeup brushes, tweezers, cotton buds, cotton balls, cotton pads, Q-tips."
The list goes on and on. 
"You can keep your sugar, cocoa powder, your tea bags, loose tea, spices, coins, diamond rings, diamonds (if you don't trust your bank), bank notes, drugs, sweets, condoms – anything you want!" 
Keywords
Get the latest beauty news and inspiration!
Sign up for our newsletter to receive the latest from Beauty Blitz delivered straight to your inbox.