The Man Who Named "Orgasm" Blush: François Nars Dishes on the Brand's Scandalous Product Names + More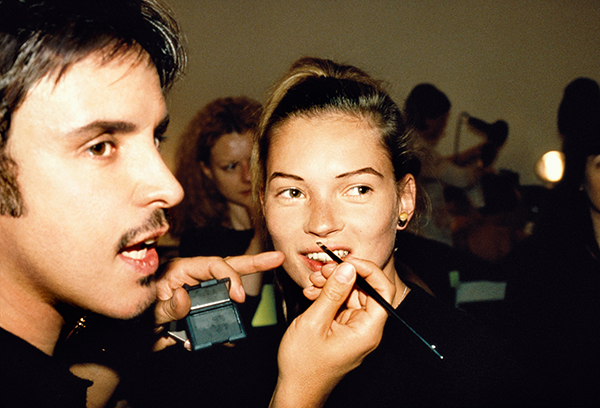 A photo of François Nars and Kate Moss from the NARS Archives, courtesy of NARS.
It's been 20 years since François Nars debuted his namesake brand at Barneys. The line started with only 12 coveted lipsticks and has grown into a massive collection of over 600 products loved by fashion and beauty insiders, makeup artists, models, and beauty junkies all over the world. Nars is known for his outstanding makeup innovations and provocative shade names like Orgasm and Deep Throat, but have you ever wondered how he comes up with all these genius offerings? He spills the details in a recent interview. 
On his creative approach to new product innovations: 
"I'm very spontaneous; I try not to think too much. I follow my instincts and use everything I've learned over the years.  I create products based on what I'm attracted to in that moment. For example, I can see a specific blue color – in an accessory, a landscape, anything — and say I want to make an eye shadow exactly that blue. It's a very spontaneous process.
I am always reinventing products, never settling for the same thing.  We are constantly moving and looking forward, we try not to create the same thing twice. It's important to be open minded and fresh, never boring."  
On the brand's outrageous product names: 
"To me it was very simple, I gave the products names to make them more special, to bring them to life, to give them a personality. I wanted it to really click for women; I wanted them to remember the given product. It's no longer just a tube of lipstick – it's a movie or a character that you can identify with, a destination you travel to through products and colors. The names make the product 'larger-than-life.'" 
On what inspires him: 
"I am inspired by everything, places I've traveled to, old films, exhibits I've visited and even people on the street. I can see something someone is wearing or their hair color, and design with those colors and palettes. That's the way I design collections – it's very spontaneous, nothing is really planned.
Paris always inspires to me. It's such a beautiful and special place for me. I love going there. Traveling is probably one of the most inspiring things to me. There is always something that triggers my choice of colors and even sometimes my photography. I also love books, I don't necessarily need to physically travel to a place because I travel through books. I can see a landscape or a culture in a book and that will inspire my work.
I love movies from the '50s, '60s and '70s.  I keep an eye on what movies come out today and there are some great ones, but they aren't as rich as they once were."
Keywords
Get the latest beauty news and inspiration!
Sign up for our newsletter to receive the latest from Beauty Blitz delivered straight to your inbox.